Recent Alumni
Choosing the right graduate school is an important decision – one that you shouldn't take lightly. One of the best ways to inform your decision is by talking to students and alumni who have been in your place. A little encouragement and a few tips from people who have been through the same experience can be reassuring. The following MIT alums discuss why Whitworth's MIT program was the best fit for them.
Shawna Korshavn
Employer: Eastlake High School, Lake Washington School District
Job Title: Algebra II/geometry teacher
How has your experience at Whitworth changed your life?

My experience at Whitworth has changed my life by shaping who I am as a teacher. I learned several valuable tools and strategies through this program that I had the opportunity to implement as a first-year teacher. The Whitworth MIT program prepared me to be successful in my first year of teaching, and many of my current colleagues have commented that I seem more like a second- or third-year teacher. I attribute much of my success to the intentional design of the Whitworth MIT program.
How were you able to balance the demands of school and other aspects of your life?
I was able to balance the demands of the MIT program and other aspects of my life by following the program's advice by taking time in the week for myself. I would try to take a full day or part of a day off each weekend to do fun activities with friends or just relax. I also prioritized sleep and realized that I was a more effective teacher if I was in a positive and patient mood. Additionally, I relied on the people in my life that made up my support system to help me through those inevitably tough days. My support system included family, friends, my fellow teacher candidates and the Whitworth MIT professors. Teaching can be difficult at times, but it is ultimately a rewarding profession and, in my mind, the best job in the world.
What did you enjoy most about the MIT program?

The professors were kind, supportive and truly had our best interests at heart. One distinct memory I have was partway into March when I was in the process of determining whether or not to continue to pursue a potential job offer at a high school. I talked with Dr. Doreen Keller about the different features of the school and how they fit with what I was looking for, and she was unbiased in helping me make the best decision for my future. Another aspect of the Whitworth MIT program that I enjoyed was my cohort, my fellow teacher candidates. My cohort had an amazing group of people with many diverse talents. I enjoyed talking to teacher candidates in other disciplines and learning from their strategies, as well as all of the great ideas I received from my fellow math teacher candidates.

Katie Swanson
Employer: Dimond High School, Anchorage School District
Job Title: Science teacher
What made you decide to go to Whitworth?

When I made my decision to pursue a career as a teacher and earn my master in teaching, there were a few programs in the Northwest from which to choose. Despite the many avenues of pursuing a teaching certificate, friends in the Spokane-area education community continued suggesting only one: Whitworth's MIT program. The reputation of the program in Washington state is second to none. Moreover, the staff involved with admissions and the application process were friendly, helpful and made me feel genuinely welcomed in the Whitworth family, before I was even accepted to the program. Lastly, the program is only 13 months, meaning I could switch careers and rejoin the workforce in just over a year. Between the length of the program, incredible reputation and welcoming atmosphere, I knew Whitworth was the only place to earn my graduate degree.
What did you enjoy most about the MIT program?

Now that I am teaching, I see the value of being placed at my student-teaching site all year. I was able to see beginning of the year procedures, how restless students become before break, and the celebration of ending the school year. The format of the MIT program is the perfect transition and preparation into the teaching profession.
The fast-paced and intense design of the program cultivated a tight-knit group of teaching candidates. Because we invested so much time together, my cohort became very close. We were all on the same page with our academic demands at Whitworth and were each other's supports during student teaching. At Whitworth, it really does feel like an MIT family. By the end, I knew my professors, mentor teachers and fellow candidates better than I knew anyone affiliated with my undergraduate institution.
How has your experience at Whitworth changed your life?

I was in a job that was not inspiring, not challenging and stagnant. Within two years, I started a job that brings me so much joy, challenges me every day and has opened up doors that I did not even know existed. Because of Whitworth's MIT program, my career path has dramatically changed.

Christopher Bachman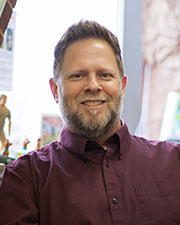 Employer: Pioneer School; Spokane Valley, Wash. (Pioneer School is a nonprofit education organization serving gifted, talented and highly capable students.)
Job Title: Fourth- and fifth-grade teacher and science curriculum specialist

Why did you choose Whitworth?
I researched master-in-teaching programs in the Spokane area, and I found that the MIT program at Whitworth is the one that repeatedly receives the highest recommendations. And teachers I had worked with and admired for their teaching styles were Whitworth MIT graduates. The founder of Pioneer School, where I am currently employed, graduated from Whitworth with a master's degree.
How has the program helped you in your current position?

I started the MIT program knowing I would emerge a middle-school science teacher. Yet, after one year of working as such, I find myself in a four/five combination general-education classroom. The elementary program did a great job of preparing me to meet the needs of students in the K-8 range. During literacy class I discovered that teaching science did not supersede the need to teach reading. Reading truly is fundamental.
I entered the MIT program with the knowledge that I did not want to teach high school. I wanted to teach middle school, and if I was going to move in one direction, it would be to intermediate or primary grades. I left the program with the knowledge that I was ready to meet the challenge. Any apprehension that I had entering the program was long lost by the time I sat in my first interview. The confidence I had in that interview, due to the preparation provided in the MIT program, landed me the job.
How did the schedule work for you?

The 13-month program, while challenging, worked well for me to complete my MIT. Other programs offer lighter scheduling and spread the program out over two full years. This might make it more manageable for some, but getting the program done quickly gets you into the workforce in a shorter time. Total immersion in the program and the integration of coursework across the curriculum, with one course feeding the others, was a wonderful way to learn and to earn my degree.
Whitworth Master in Teaching Program graduates are making a difference in their lives by making a difference in the lives of students.