Whitworth President Scott McQuilkin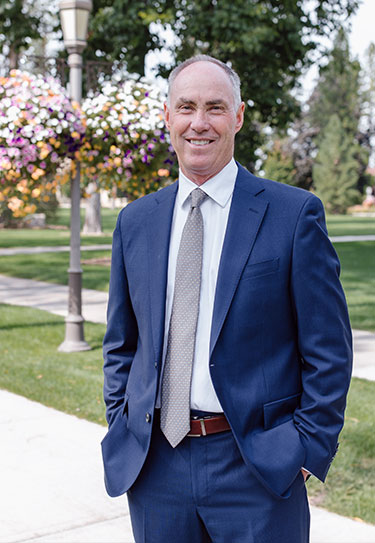 Scott McQuilkin, Ph.D., became the 19th president of Whitworth University in February 2022.

McQuilkin had served as Whitworth's interim president since June 1, 2021, following President Beck A. Taylor's departure for Samford University.

"Scott understands what makes Whitworth unique and has an outstanding ability to lead our diverse student body, families, staff and faculty to not only preserve, but promote our culture and values," Whitworth trustee Barbara Richter '77 says. "His personal commitment to Christ is evident in all that he does in his life. Scott will use his gifts of excellence, commitment, work ethic, intelligence, calm and humility as he forges his strategic vision and plan for Whitworth's present and future."

An alumnus and longtime employee of the university, McQuilkin previously served for 12 years as vice president for institutional advancement. In that critical role, McQuilkin was a member of the president's cabinet and oversaw a staff of 40 people in fundraising, donor relations, marketing & communications, and alumni & parent relations. Under McQuilkin's leadership, institutional advancement carried out its most successful fundraising campaign in the university's history. The 11-year Campaign for Whitworth raised more than $156 million in gifts and future commitments, supporting more than 600 projects and programs.

In addition to earning his undergraduate degree from Whitworth, McQuilkin earned his master's degree in education from Whitworth and then went on to earn his Ph.D. in exercise and sport science from The Pennsylvania State University. He has served the university in various faculty, coaching and administrative roles, including as a tenured professor and chair of the kinesiology department; as head baseball coach; and as athletic director for 14 years. During his tenure as director, Whitworth Athletics won numerous conference championships as well as the coveted McIlroy-Lewis All-Sports Trophy – which recognizes the Northwest Conference's best overall intercollegiate athletics program – three times. McQuilkin has also taught in Whitworth's acclaimed Core/worldview studies program.