Donor Impact
Carys Parker
Carys Parker
Graduation year: 2017
Majors Theology
Hometown: Home is where the ship is.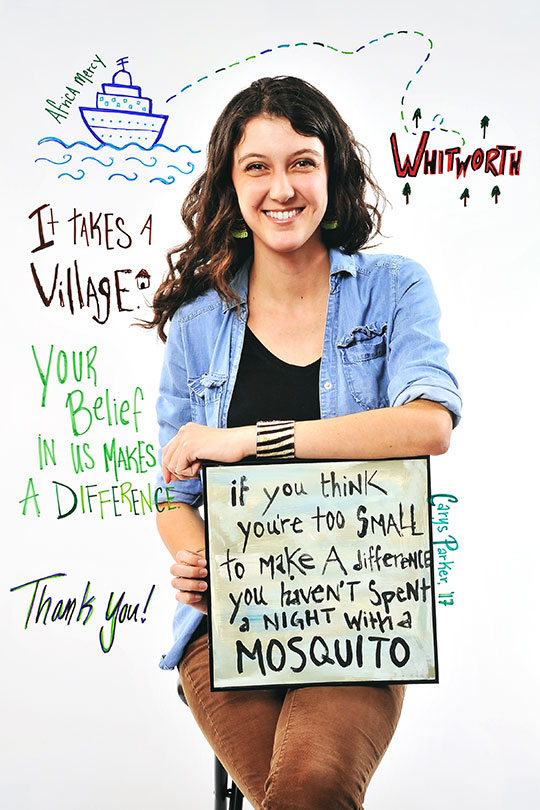 I grew up on a hospital ship off the coast of West Africa with my mom and dad and little brother, Wesley. My parents met on the ship, married, and then basically never left. Ship life was really all I knew from two months to 18 years, when I graduated and said goodbye to all that had been familiar to me.
Life on the ship was a beautiful, shaping time for me. It was all I knew to be normal and yet at the same time I realized that this was a special place and a special community of people with a united heart and mission that would influence me in ways I am still discovering even today.
Sometimes I wonder who I would have been without the ship, how much of my personality could have been perhaps something different? It was such a unique gift on hard days when life just seemed difficult or a pain, to be able to literally walk down two decks and visit the hospital and befriend patients whose burdens I couldn't begin to imagine carrying. I met Blessing, who had lost her lips to the flesh-eating disease Noma, and Esther who was weighed down by a tumor the size of a watermelon. There was Mariatou, who had lost her nose, and so many others who were crippled or blinded, or wounded in some horrific way. And yet in a place of so much weight, a place full of people who had more reason than most to be angry at their lot in life, in that place I was met with thankfulness. I saw people who were honest in their tears but hopeful in their future, choosing gratefulness over bitterness. And being exposed to such a perspective changed my own perspective and instilled a thankfulness I pray I will always lean upon when life does get hard.
I was both terrified and excited to leave the ship, and I was looking for a place to quiet my terror and deepen my excitement. Whitworth fit that for me. The campus was close to some amazing family friends who live in Idaho and would be only a phone call away, and also Whitworth was a place that emphasized community in a way that really resonated with me. I didn't want to say goodbye to my ship family, so if I had to do that, I wanted at least to move to a place where I could help build, and thrive in, a new, beautiful community.
Whitworth's mission statement also really resonated with me: an education of mind and heart. I was drawn in by how Whitworth strove to take the academic side of theology and infuse it into the heart of our daily lives, decisions, and worldview. Whitworth is about growing adults and helping us navigate our own path not only to what we believe but to why we believe what we believe. And that was a factor that appealed to me deeply about Whitworth.
I wouldn't be here without the generosity and trust of donors. It's hard for me to imagine my life without Whitworth — the classes and professors I'd never have had, the lifelong friends I'd never have met, the worldview, breakthroughs, breakdowns, insights, and vocation-finding moments that would not have come my way and shaped me in such significant ways — if I had not been able to be here at this time and this place.
For this amazing opportunity of getting to attend Whitworth I am so thankful that God provided people like you. You have changed my life and so many, many others in ways you know and ways you may never know. And I hope, by God's grace, I can use this gift of education, of theology, to give back to others one day. I pray God can work through my hands and feet to change lives, one person at a time, as you have done for me. And I hope one day that can be my ultimate thank-you to you. Thank you for caring for me and others you don't even know. Thank you for believing in our gifts, our futures and our hopes. And finally, thank you for the opportunity to realize just how very sacred pinecones truly are. I'll never NOT freak out over the crack of a falling pinecone ever again. S'go BUCS!