Biography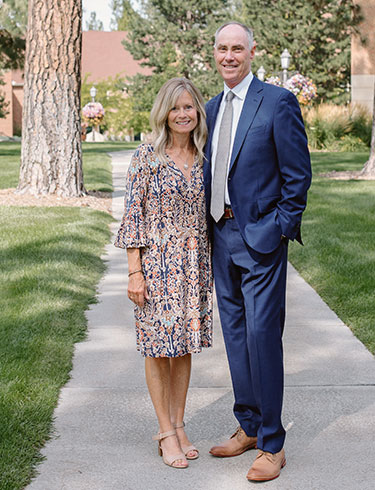 Scott and Janice McQuilkin
Scott McQuilkin, Ph.D., has been appointed the 19th president of Whitworth University.
McQuilkin graduated from Whitworth in 1984 with a degree in physical education and minors in math and religion, and he played for the Pirates baseball team. He began his employment at Whitworth in 1985 and has served the university in a number of leadership positions during his tenure, most recently as interim president since July 1, 2021. Prior to that time, McQuilkin was the university's vice president for institutional advancement for 12 years.
In addition to earning his undergraduate degree from Whitworth, McQuilkin earned his master's degree in education from Whitworth and then went on to earn his Ph.D. in exercise and sport science from The Pennsylvania State University. He has served the university in various faculty, coaching and administrative roles, including as a tenured professor and chair of the kinesiology department; as head baseball coach; and as athletics director for 14 years. During his tenure as director, Whitworth Athletics won numerous conference championships as well as the coveted McIlroy-Lewis All-Sports Trophy – which recognizes the Northwest Conference's best overall intercollegiate athletics program – three times. McQuilkin has also taught in Whitworth's acclaimed Core/worldview studies program.
As vice president for institutional advancement, McQuilkin was a member of the president's cabinet and oversaw a staff of 40 people in fundraising, donor relations, marketing & communications, and alumni & parent relations. Under McQuilkin's leadership, institutional advancement carried out its most successful fundraising campaign in the university's history. The 11-year Campaign for Whitworth raised more than $156 million in gifts and future commitments, supporting more than 600 projects and programs
McQuilkin has served on numerous community and statewide nonprofit boards including in his current role as chair of the board for Northwest Harvest.
McQuilkin is married to Janice (Rasmussen) McQuilkin '85 and has three children, all Whitworth graduates: Morgan '12, Kelsey '14 and Tyler '16.