Presidential Announcement
Whitworth University Appoints Scott McQuilkin as President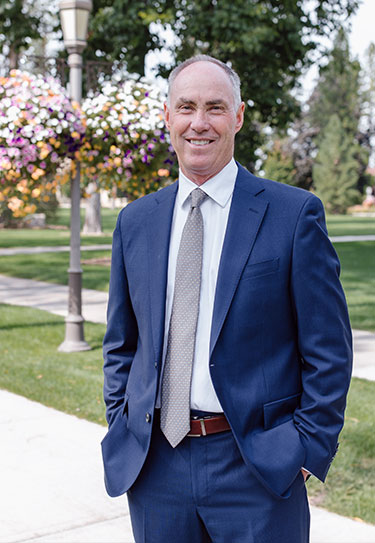 The Whitworth University Board of Trustees is pleased to announce the appointment of Scott McQuilkin, Ph.D., as the university's 19th president.
McQuilkin has served as Whitworth's interim president since June 1, 2021, following President Beck Taylor's departure for Samford University.
An alumnus and longtime employee of the university, McQuilkin previously served for 12 years as vice president for institutional advancement. In that critical role, McQuilkin was a member of the president's cabinet and oversaw a staff of 40 people in fundraising, donor relations, marketing & communications, and alumni & parent relations. Under McQuilkin's leadership, institutional advancement carried out its most successful fundraising campaign in the university's history. The 11-year Campaign for Whitworth raised more than $156 million in gifts and future commitments, supporting more than 600 projects and programs.
In addition to earning his undergraduate degree from Whitworth, McQuilkin earned his master's degree in education from Whitworth and then went on to earn his Ph.D. in exercise and sport science from The Pennsylvania State University. He has served the university in various faculty, coaching and administrative roles, including as a tenured professor and chair of the kinesiology department; as head baseball coach; and as athletic director for 14 years. During his tenure as director, Whitworth Athletics won numerous conference championships as well as the coveted McIlroy-Lewis All-Sports Trophy – which recognizes the Northwest Conference's best overall intercollegiate athletics program – three times. McQuilkin has also taught in Whitworth's acclaimed Core/worldview studies program.
Whitworth Board of Trustees Chair Brian Kirkpatrick says McQuilkin has dedicated his entire career to Whitworth University and its mission and has been an exceptional and visionary leader in every capacity.
"It is with delight and respect that I announce that Scott McQuilkin will be the next president of Whitworth University," Kirkpatrick says. "When Scott was named interim president, both he and the board officers agreed that he should not be an applicant for the permanent position. Scott stated that his candidacy would very likely deter some high-quality candidates from applying. Therefore, desiring for the candidate pool to be as robust as possible and the best outcome for the university, Scott was never a candidate, and he remained outside the process throughout the duration of the search. Although this was disappointing for many in the community, the process was undertaken with consideration of over 60 applicants. When our exhaustive search concluded without a presidential appointment, the board then approached Scott, asking him to consider a permanent appointment. After many in-depth and thoughtful discussions, he enthusiastically agreed to be considered by the board for the presidency."
McQuilkin was officially introduced as Whitworth's 19th president on Friday, Jan. 28. Watch the event recording here.