Brewing Science & Operations Certificate
Business – Science – and Brewing.
Join us for one of the Inland Northwest's premier brewing programs: Apply now for fall 2024! Limited space available; courses fill quickly.
The Northwest loves craft beer. Whether you want to work in a craft brewery or start your own brewing business, Whitworth is proud to offer one of the only professional programs in the Inland Northwest designed to set you up for success, in a city that is becoming a regional hub for brewing with more than 30 craft breweries. Why Whitworth? (We know it's a bit unexpected.) You'll learn more than how to brew great beer – you'll be able to build a business with integrity and gain a greater understanding of community ethics of brewers.
Complete the certificate in just nine months.
Four courses meet one evening per week, with two full Saturdays.
Complete your internship hours at a local brewery.
Learn how to use Whitworth's professional-grade brewing equipment and make ethical decisions along the way.
Snapshot
Course Format
In person, one evening per week and two full Saturdays
Location
North Spokane
Completion Time
9 months
Cost*

For Credit:
$565 per credit (14 credits = $7,910)

Noncredit (certificate only):
$300 per credit (14 credits = ($4,200)

Application Deadline
Aug. 1, 2024
Limited spaces available; applications will be considered as program space allows.
Timeline
August-May
Eligibility
Available to School of Continuing Studies (SCS) students and adult community members; all applicants must meet SCS age requirements**. No prior experience or prerequisites required.
*Cost listed is for the 2023-24 academic year.
**Students in Whitworth's full-time matriculated day program are not eligible.
Program Benefits
With cohorts of less than 15 students, our brewing program was intentionally designed to:
allow more one-on-one time with your instructor;
maximize your time and experience using our professional-grade brewing equipment;
increase community between you and the other students in the cohort; and
optimize networking opportunities with regional craft brewers.
This program is dedicated to continuing Whitworth's tradition of mind-and-heart education, showing students that mindfulness, dedication, knowledge and creativity can lead to a meaningful vocation in the brewing industry.
Professional Equipment & Experience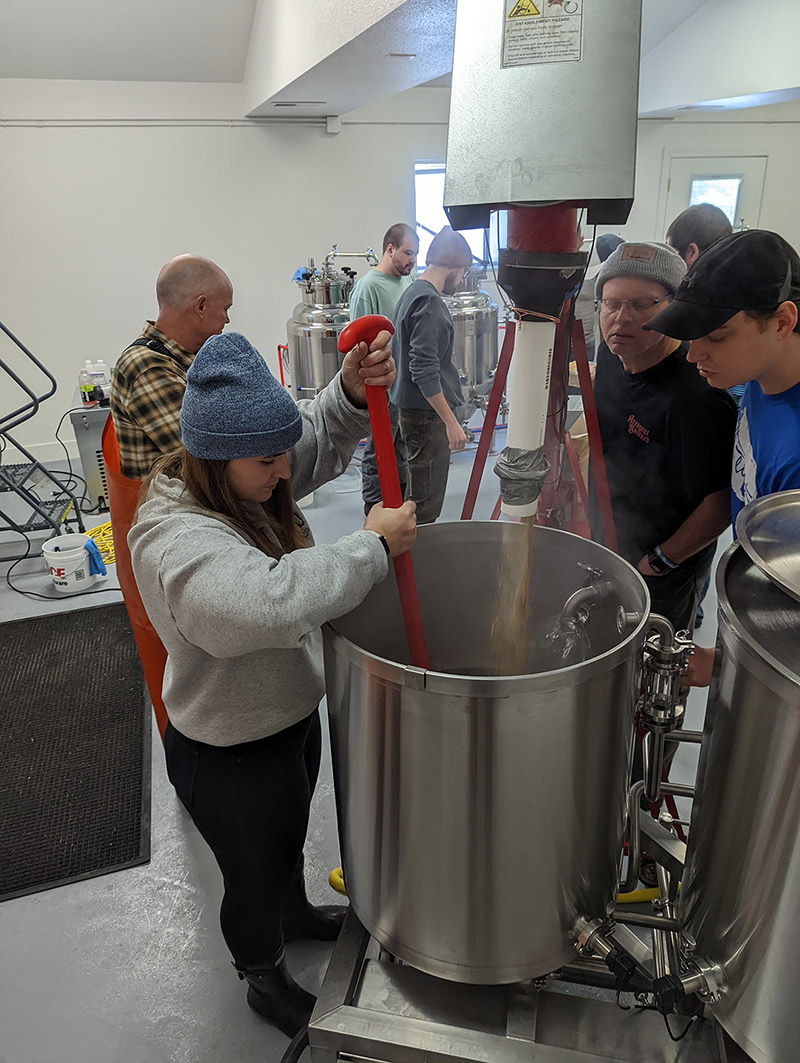 Whitworth's dedicated, on-site brewing facility complements our science-based curriculum with hands-on learning that students use throughout their coursework. The brewing facility is designed with the following equipment, all of which is similar to what is used in an actual brewery setting:
two professional-grade brewing systems (one- and three-barrel systems)
four one-barrel chilled fermenters
an on-site lab for yeast culturing and counting
a CO2 carbonation system
a reverse osmosis water system for creating specific water profiles that are critical to brewing great beer
kegging and canning systems

Your experience at Whitworth will prepare you to hit the ground running, whether you're plugging into an existing brewery or setting out on your own entrepreneurial adventure.
"Spokane is the perfect place for a brewing education program based in fermentation science and hands-on experience with professional brewing equipment. We are tapping into the deep well of knowledge with local craft brewers that will give students rich experiences during the internship portion of the program."

– Aaron Putzke, Program Director
Community Partnerships
As part of Whitworth's community engagement and commitment to servant leadership, Whitworth's brewing program collaborates with local breweries to help support the professional development of future craft brewers throughout the northwest. Partnering with brewers in Spokane's craft brewing community gives our students opportunities to work with a wide variety of brewhouse systems and network with regional craft brewers.
Who should apply?
Anyone with an interest in craft brewing. Whether you're looking for the skills to start working in a craft brewery, start your own brewing business or just brew for fun on your own, Whitworth's program is the one. No experience is necessary and no prerequisites or prior college credits are required to get started. All applicants must meet School of Continuing Studies age requirements.
Certificate Requirements
| Course # | Title | Credits |
| --- | --- | --- |
| BR 110 | Intro to Brewing: The Science, History, & Ethics of Beer | 3 |
| BR 210 | Intermediate Brewing: Practical & Applied Techniques | 3 |
| BU 321 | The Business of Brewing | 3 |
| BR 310 | Advanced Brewing: Creating Your Own Beer | 3 |
| BR 410 | Craft Brewing Internship | 2 |
Cost, Financial Aid & Payment Options
For Credit:
$565 per credit (14 credits = $7,910) for the 2023-24 academic year.
Noncredit (certificate only):
$300 per credit (14 credits = ($4,200)
Ask us about our financial aid options: 509.777.3222 or csadmissions@whitworth.edu. Payment options are available, including monthly payments with a minimal setup fee. Contact Whitworth Student Financial Services at stuaccts@whitworth.edu for information.