Whitworth President Emeritus Bill Robinson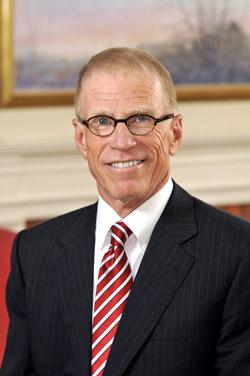 William P. (Bill) Robinson is president emeritus of Whitworth University in Spokane, Washington. He served as Whitworth's 17th president from 1993 to 2010, after previously serving as president of Manchester College, in Indiana, from 1986 to 1993. His tenure as Whitworth's president was the second longest and one of the most influential in the university's history.
With uncommon clarity, Robinson understood and articulated the "Grand Paradox" of Whitworth's mission to uphold Christian conviction and intellectual curiosity as complementary rather than competing values. Inspired by Robinson's leadership, Whitworth students, faculty and staff joined with alumni, donors and friends to achieve dramatic increases in enrollment, finances and campus facilities.
In his role as president emeritus, Robinson works closely with the university president and the institutional advancement staff on external relations. He also writes and speaks widely on leadership, organizational culture and communication in corporate, non-profit and ministry settings.