About the Director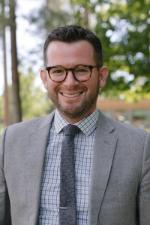 David Henreckson (Ph.D. Princeton University; M.T.S. University of Notre Dame) is an assistant professor and Director of the Weyerhaeuser Center for Christian Faith and Learning at Whitworth University. Previously, he held academic appointments at Valparaiso University, as the Raquet Endowed Director's Chair, and at Dordt University, as the director of the Andreas Center for Reformed Scholarship and Service.
His book, The Immortal Commonwealth: Covenant, Community, and Political Resistance in Early Reformed Thought (Cambridge University Press, 2019) was a recipient of the Manfred Lautenschlaeger Award for Theological Promise. His next book (under contract with Baker Academic) is tentatively titled Ventured Love: Christian Friendship under Modern Critique.
Henreckson teaches courses on theology and moral philosophy. His work has appeared in peer-reviewed journals such as the Journal of the Society of Christian Ethics, Studies in Christian Ethics, and the Journal of Reformed Theology, as well as magazines such as Christianity Today, Comment, Fare Forward, and Political Theology Today. He is a contributing editor at Comment and has also done editorial work for the Marginalia Review of Books.