Passionate theatre professor instills creative spirit in his students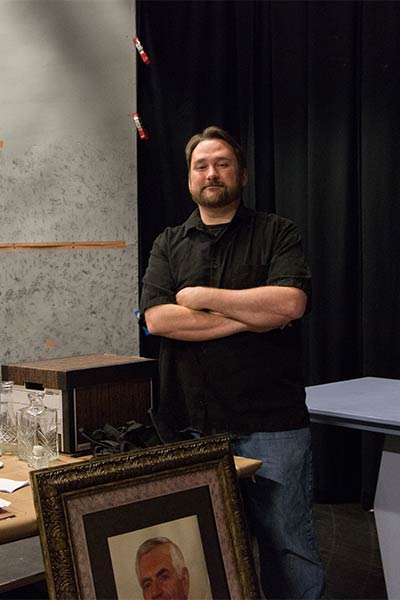 Assistant Professor of Theatre Aaron Dyszelski is driven to live by example for his students. His passion for scenography and design can be seen in numerous endeavors on and off Whitworth's campus.
Before joining Whitworth in 2011, Dyszelski worked for Walt Disney Company managing the development, creation and maintenance of entertainment costumes for more than 15 shows in two theme parks. He also drafted technical costume drawings for in-house shops and outside manufacturers.
"The artistry and energy that went into each show were phenomenal," Dyszelski says. "As difficult as the shows' overnight dress rehearsals were, they were very memorable. There's something wonderfully surreal about a parade marching down an empty Main Street, U.S.A., at 3 a.m."
Locally, Dyszelski does mural work for non-profit organizations in the Spokane community. He has worked with the Arc of Spokane and Spokane Children's Theatre. Dyszelski's work can be viewed at the Arc of Spokane Community Center, located at 320 E. 2nd Ave. This is currently the only mural he's worked on that is accessible to the public. Dyszelski hopes to next work on a mural for the Rockwood Retirement Community.
Dyszelski's variety of professional experiences inform his instruction style in Whitworth's theatre program.
"Aside from being able to share the real experience of working in such diverse and fast-paced environments as Disney and other theatre companies, my background allows me to approach everything I do with a creative spirit that I hope to pass along to my students," Dyszelski says. "I want my students to experience a unique way of helping the community at large and to express themselves purposefully and collaboratively."
Dyszelski plays an active role in Whitworth's theatre productions, typically designing scenery and costumes for the annual fall and spring Main Stage productions. He also provides technical support for student productions, such as senior projects. Dyszelski also does lighting design on occasion.
In addition, Dyszelski drafts plans and works with student volunteers to construct and paint sets and props for each show.
"Students are involved in nearly every aspect," Dyszelski says, "including lighting hang and focus, makeup and hair design, stage management, lighting and sound board operation, assistant directing, choreography, house management and more."
Through all of his roles, Dyszelski has helped foster a strong professional community in Whitworth Theatre.
"I love that I get to express myself artistically in a positive community like Whitworth," Dyszelski says. "What is especially fulfilling is that we get students from every major discipline in the theatre program. It makes for a strong diverse group of talents and skills, which help us create the best art we possibly can."