Alumna's passion for humanitarian-relief work first ignited at Whitworth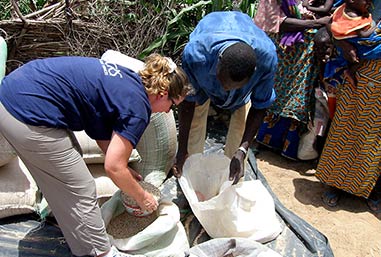 As a Whitworth student, Anna Schowengerdt, '93, discerned her vocation when she spent eight months in an independent study-abroad program in Kenya, East Africa. While helping to organize food and blanket distributions for Somali refugees near the Kenya-Somalia border, she realized that "the emotional high of responding to a humanitarian emergency would stay with me forever."
Since graduating from Whitworth, Schowengerdt, an international studies major, has dedicated her life to providing humanitarian aid around the globe. In 1998, she began working for Catholic Relief Services, leading efforts to provide food and supplies to countries hit by disaster, including tsunami-ravaged Indonesia, in 2005, and Haiti, after the devastating earthquake of 2010.
Schowengerdt has managed an emergency food-aid program in Liberia, and she administered projects in Uganda, in areas including agriculture, micro-finance, HIV/AIDS, education, emergency response and peace-building. She also helped marginalized communities in Iraq to rebuild roads, schools, libraries and other infrastructure, and to re-establish local governance systems.
The breadth of Schowengerdt's experience and her passion for humanitarian-relief work make her an invaluable resource for Whitworth students who are also drawn to assist developing countries in need. She has returned to campus several times to speak about her work and her organization's role in the recovery of countries and communities damaged by conflict or natural disaster. Schowengerdt received the Recent Alumna Award in 2003 and provided the keynote address for Whitworth's 115th Commencement, in 2005.