Chris Schepman, '06: Technical mentor. Karaoke app creator. Fan of Spokane.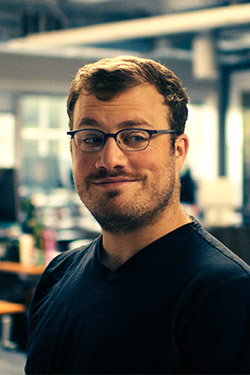 Chris Schepman, '06, uses his Whitworth computer-science degree for good and for fun. He works as a technical mentor for Hack Reactor, and he created the Baby Ketten Karaoke app, which is available on iTunes and is enjoyed, so he has been told, by celebrities. More on that soon.
Last winter, Schepman moved from Portland, Ore., to Spokane, where he began working remotely as a technical mentor for Hack Reactor, a company based in San Francisco, Calif., that trains students to become professional web developers through an intense, 12-week course.
"I've had a lot of jobs doing software development, and it's something I love," Schepman says, "but I'm finding that I enjoy my work a lot more when I have the opportunity to really connect with humans and help them understand more about something that I love."
As a technical mentor, Schepman's job includes meeting via video with small groups to brainstorm and scope project ideas, review code, deep-dive technical issues, and help students prepare for job interviews. Schepman has set up shop at Fellow, a co-working space in downtown Spokane, where he says he has found "an awesome community of remote workers."
Whitworth was a great experience for Schepman in many ways. "I became an excellent computer scientist, I learned a ton about living in community, and I got so much better at communicating my ideas effectively," he says. "All of these things help me daily in my career."
After graduating, Schepman worked for a year as a contractor with Microsoft. He then worked for software companies in Yakima, Spokane and Portland, with a dash of freelancing and travel thrown in, before landing back in Spokane and hiring on with Hack Reactor.
"I love Spokane," he says. "It has real seasons, cheap living, great coffee and no traffic. I had left Spokane for five years, and coming back was amazing. Huge thanks to the people who decided to stick around and work really hard at making it an awesome place to live."
While living in Portland, Schepman discovered Baby Ketten Karaoke, which he calls "the best karaoke in the world." At the same time, he was learning how to make iPhone apps.
"I thought it'd be so cool if I could search for songs on my phone rather than flipping through these old books," he says. Schepman created the app, named for Baby Ketten Karaoke, and a backend web service to power searching from other apps/sites.
As for the celebrity sightings: Since BKK is the best karaoke in the world (Schepman isn't kidding), its founder, John Brophy is invited to KJ (karaoke jockey) movie-release parties. Brophy recently KJ'd the after-party for the movie "The Interview," where James Franco and Seth Rogen were reportedly seen using the app. Other rumored celeb/app sightings include Andy Samberg and Joanna Newson. "Apparently," Schepman says, "she does a mean rendition of 'Lazy Sunday.'"