Whitworth helped MBA graduate develop servant leadership mindset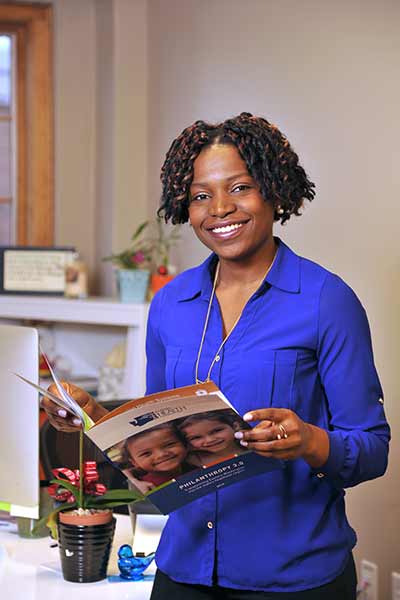 Christina Banda Kamkosi completed an International Management MBA at Whitworth in 2013 and was recently named one of the Spokane region's top 20 professionals under the age of 40 by Inland Business Catalyst Magazine.
Kamkosi earned an undergraduate degree from African Bible College in Malawi with a dream to attend a small Christian university in the U.S. to pursue her MBA. After hearing about Whitworth's mission of mind and heart, she decided it was the place for her to become an agent of change.
"At first, I was just looking for a smaller university," Kamkosi says. "But after I started corresponding with the business department, I realized the program was designed with a global mindset."
Her experience with Whitworth's School of Business has helped Kamkosi develop as a leader.
"The focus on the whole person, mind and heart, has helped me go into the world with a servant leadership mindset," Kamkosi says. "Relationships were a huge part of my education at Whitworth so that provided support and long lasting mentors. In addition, I was provided with opportunities to interact with others and sharpen my teamwork skills."
Currently, Kamkosi is a program coordinator at Empire Health Foundation (EHF) in Spokane. EHF is a private health conversion foundation formed in 2008 that serves in seven counties throughout Eastern Washington and stewards philanthropic assets. They invest in ideas and organizations that improve access, education, research and policy to result in a measurably healthier region.
"Because of the nature of the job, I have the privilege of doing some community engagement work, which is helping me learn about health needs in our region," Kamkosi says.
Her duties include managing EHF's one-time grants called Responsive Grants, ensuring effective internal and external communication about the program, managing grant management software, producing reports, responding to inquiries, etc.
"The challenging aspect of this job is finding the right strategies to solve today's toughest social problems with finite resources," Kamkosi says. "At EHF, we are collaborating with different community partners to measurably and sustainably move the dial on health."