French lecturer embraces the Whitworth difference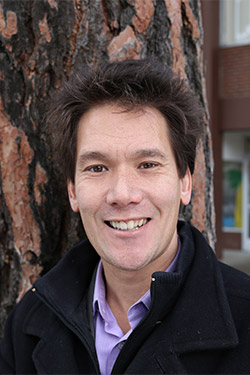 Vive la difference, or "long live the difference," is Whitworth World Languages & Cultures Lecturer Frédéric Dugenet's favorite phrase.
Dugenet, who was born in southeast France, attended the University of Provence. He enrolled at Whitworth as an exchange student in 1995-96; while at Whitworth, he competed on the cross-country and track & field teams.
"My original goal when I came to Whitworth was to do research for my master's in English in order to teach English," he says. "After praying about it, I clearly felt like God was leading me to use my skills to honor him by teaching my native language (in the U.S.) instead."
Dugenet's positive experience teaching French live labs at Whitworth led him to decide to return to Europe for several years, and to change his degree from English to teaching French as a foreign language. He went on to earn a master's degree in French, and an education degree from the University of Lancaster, in the United Kingdom.
In 1998 he returned to Spokane, where he taught French at several high schools and colleges. He received a Fulbright scholarship to teach English in the French Caribbean island of Guadeloupe, and he became an American citizen in 2006.
"People's kindness in Spokane, and especially at Whitworth, won me over and convinced me that it was the best place on earth to live," Dugenet says.
Dugenet currently teaches French 101 and 102 at Whitworth, and he teaches French to senior citizens at a local community college. When he's not teaching French, he's usually running, biking and swimming in preparation for his next triathlon. He also acts in local plays and is an avid movie buff.
"If someone had told me 19 years ago that I would end up settling down in Spokane permanently and teaching at Whitworth, I would have thought the dream was too good to be true," Dugenet says. "I can honestly say that Whitworth changed the course of my life. I would not be here today without Whitworth educating my mind and heart back then."