Alum helps take exciting idea to booming startup success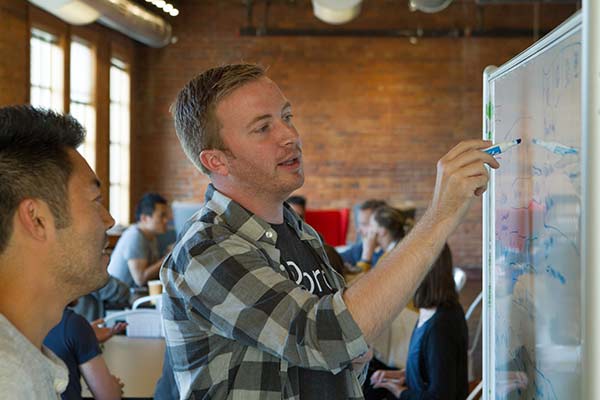 Jake Cooney, '03, has first-hand experience taking a start-up company from exciting idea to thriving – even booming – success. As creative director for Porch.com, Cooney was in on the basement level of the company's launch, literally. Porch is a free online service that allows homeowners to connect with trusted professionals, get inspired and manage their homes.
What started in 2013 as three entrepreneurs working in the Porch CEO's basement in Seattle has become a juggernaut: Porch.com launched with more than 1.5 million professionals listed. In April 2014, Porch partnered with Lowe's Home Improvement and expanded nationally as the primary way to connect homeowners and professionals in Lowe's stores. Four months later, Porch was named Seattle's fastest-growing company and one of the best places to work in Seattle by Seattle Business Magazine. In December, CEO Matt Ehrlichman was named USA Today Entrepreneur of the Year. In May 2015, Porch expanded into a four-story former warehouse in Seattle's industrial district, with more than 400 employees. Today, Porch.com lists 3.2 million professionals and 132 million home projects.
As creative director, Cooney is responsible for the visual design and brand of Porch. He collaborates with colleagues in product design, visual design, marketing and other creative roles to build a consistent, world-class brand. "From its earliest stages, Porch has put strong values on design and building beautiful products," Cooney says. "I and the product-design team are focused on delivering those."
Cooney and Ehrlichman initially teamed up when Cooney interviewed for his first job after graduating from Whitworth. Ehrlichman, who was running Thriva, a software startup in Spokane, brought Cooney and two other Whitworth grads onto the team. "I was responsible for all marketing and design, which was a really great opportunity being right out of school," Cooney says. The company – and Cooney – relocated to Seattle, where Thriva was eventually acquired by Active Network. When Erhlichman came up with the concept for Porch, "the idea immediately clicked with me," Cooney says, "and I jumped at the opportunity to do another startup."
Working at a startup requires a well-rounded skill set, according to Cooney. "You have to get your hands dirty and do whatever needs to get done," he says. "The liberal-arts education Whitworth provided made it easy for me to jump between writing, designing and collaborating with other teams."
Cooney says changing his majors three times also helped enhance his start-up skill set. First he explored computer science; he then switched to business with a focus on marketing and public relations. He finally decided to major in art, which meant Cooney had to work diligently to complete his degree in four years.
"Even though it wasn't by design, jumping around like that really prepared me for working with engineers, business development and marketing," Cooney says. "And having a frantic, full senior year made for a pretty easy transition to startup life."