Whitworth alumni work to break cycle of poverty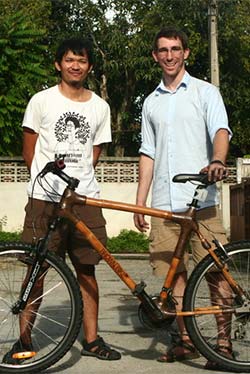 How can bicycles made from bamboo combat poverty? Just ask Whitworth alums Jeffrey Parker, '14, and his wife, Kristen (Miles) Parker, '12, who co-founded the Burma Bike Partnership to help fight unemployment and the lack of economic opportunity in northern Myanmar.
While teaching English in Kachin, the northernmost state in Myanmar, the Parkers discovered the harsh reality in which many locals live: 60 percent of people between the ages of 18 and 30 are unemployed and lack future employment prospects. In addition, due to a recent crackdown on unregistered vehicles, many people lack reliable transportation. Unemployment also adds to the growing issue of illegal drug use among the locals.
"We were inspired by God's call, and the Kachin inspire us daily with their hospitality and love for Christ," Jeffrey says. "Their community is incredible in spite of facing such tremendous hardships."
The Parkers saw the need for employment, the absence of a bicycling culture, and the lack of opportunity. Their response was to create the Burma Bike Partnership. The Parkers have been surprised by the excitement their project has generated among the Kachin, and a large amount of community members want to be involved. Initially, the project seeks to train and employ craftspeople who will create high-quality bike frames from bamboo, providing cheap, reliable transportation.
"The most meaningful part about this situation for us is that we are truly being integrated into the Kachin community," Jeffrey says. "It is incredible to know that the community is investing in us as well."
For more information or to help fund the Burma Bike Partnership, visit the Parkers' Kickstarter page: www.kickstarter.com/projects/404410633/burma-bike-partnership-bamboo-bicycles.