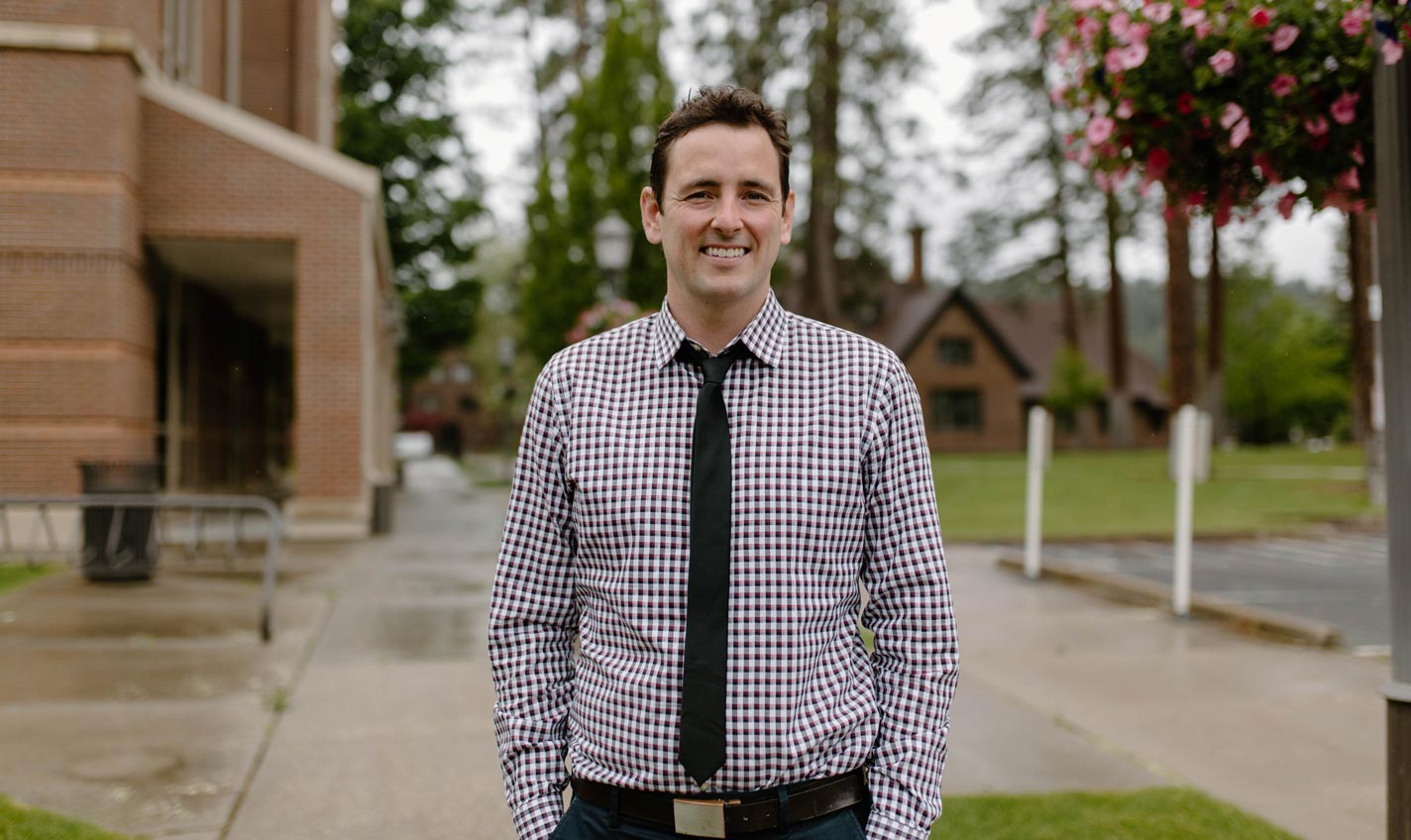 David Sloan '05 guides business students through an uncommon topic
Before David Sloan was a Whitworth professor teaching marketing and leadership, he was a Whitworth student studying business management, performing in musical ensembles, and playing Frisbee in The Loop.
"Both in the classroom and in campus life, Whitworth offers such a transformational experience," says Sloan, a 2005 graduate. "I graduated with not just a degree and an idea of what I wanted to do, but also with a picture of who I wanted to be in this world."
After earning a master of business administration degree and doctorate, Sloan returned to Whitworth in 2013 to teach a class on sales and customer relationships. "That experience was so life-giving for me," he says, "both getting to reconnect as a colleague with some of my past professors, and to start building relationships with students."
Sloan finds a deep sense of purpose in his relationships with students. Now an associate professor of management & marketing, Sloan has been voted a "Most Influential Professor" by the senior class twice. Notably, relationships are also a focus of his teaching and research.
In his Transforming Leadership course, Sloan teaches interpersonal skills that are effective not only in business relationships, but in personal ones too. Last year, he developed a "framework of forgiveness" that his students practice and can apply to all areas of their lives. Although forgiveness may be an uncommon topic of discussion in business schools, Sloan's teaching pairs well with Whitworth's Christian mission.
"The Whitworth experience focuses on answering the question of 'what is right' in addition to 'what works,'" Sloan says. "In other words, we focus on the integration of Christian faith as we reflect on ethics and morality in business."
Sloan wrote the following piece on practicing forgiveness for the spring 2020 issue of Whitworth Today.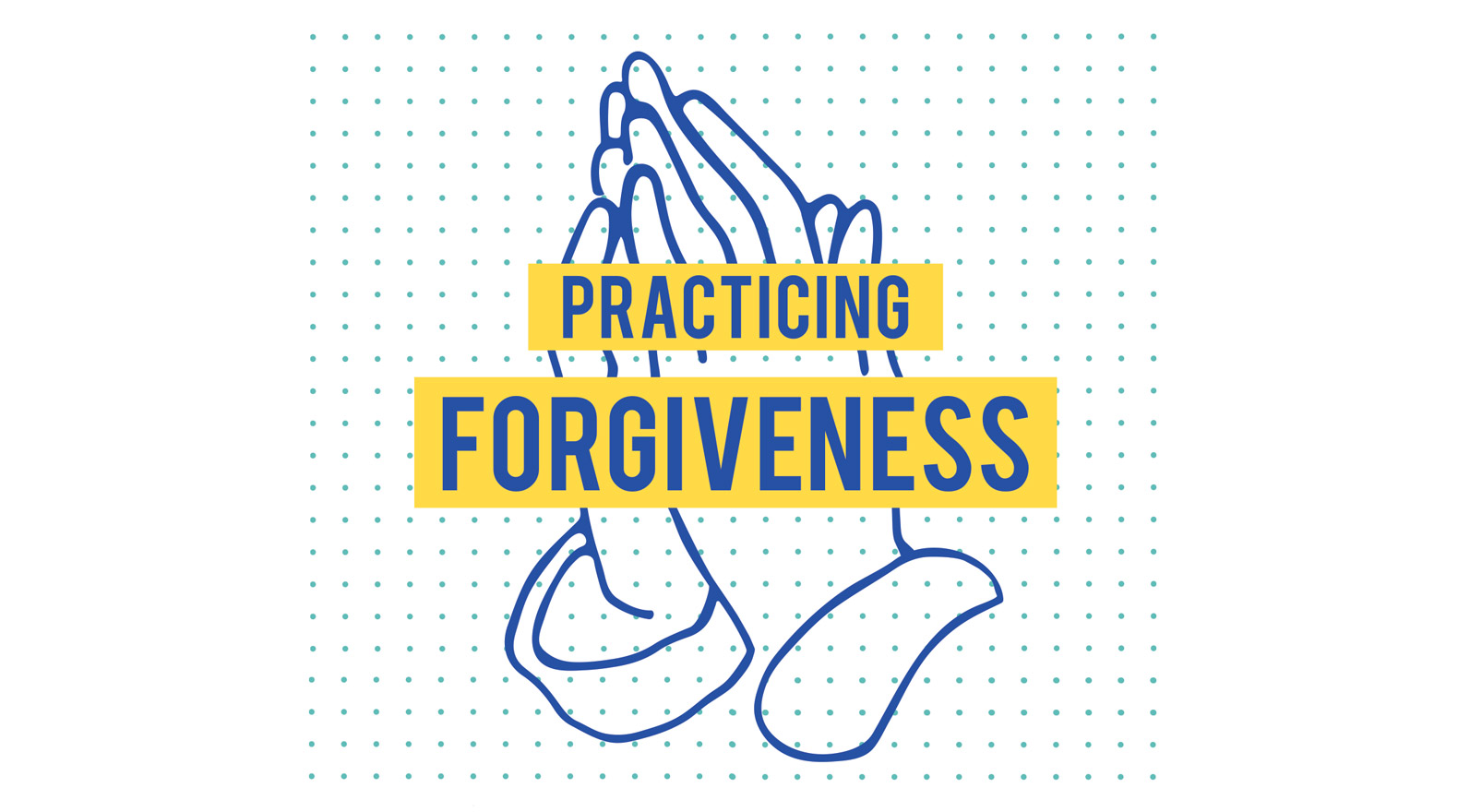 Practicing Forgiveness
By David Sloan, Associate Professor of Management & Marketing
While forgiveness is such an important part of the Christian faith, Christians have few formal conversations on how to actually seek forgiveness. Through Whitworth's Vocations of the Christian Professor workshop last summer, I developed an exercise that helps my business students learn what I call a "framework of forgiveness."
In our society, acknowledgment of harm and movement toward healing are uncommon. The practice of a forgiveness framework is countercultural, especially in leadership contexts where power differences add another layer of complexity. Practicing forgiveness in business demonstrates a more redeemed, Christlike culture.
I have found that one of the best ways to learn something is to teach it to other people. This approach provided the inspiration for the class assignment in which I teach forgiveness through the following four-step framework I learned from a mentor.
State what you did (the behavior).
Ask how your behavior impacted the other person.
Ask for forgiveness for the behavior and its impact.
Change the behavior.
For example, if I raised my voice at a loved one, I would first say, "I am sorry for raising my voice at you. That does not show you the dignity you deserve, and I don't want to treat you that way."
Second, I would ask, "How did it make you feel when I raised my voice at you?" Hearing how I have hurt another person is often difficult. For example, my loved one might say she felt belittled when I spoke to her that way.
Third, I would ask, "Will you forgive me for raising my voice (the behavior), and in doing that, belittling you (the impact)?"
The fourth step of change would involve anything from being more mindful about the behavior to incorporating systems of accountability to help support me as I grow in that area.
My students teach this framework to at least five other people such as friends, family members and co-workers, and then they begin practicing forgiveness themselves using the four steps. Through written reflection, students examine their experience using the framework, the conversations that resulted when teaching the framework and practicing it, and their view on the role of forgiveness in leadership.
We can apply this practical framework in all of our relationships. When we use it in our professional relationships, it can transform our workplaces, since it is rare for colleagues, managers and employees to humbly ask for forgiveness.
Read the spring 2020 issue of Whitworth Today.