From Warden to Whitworth to Wall Street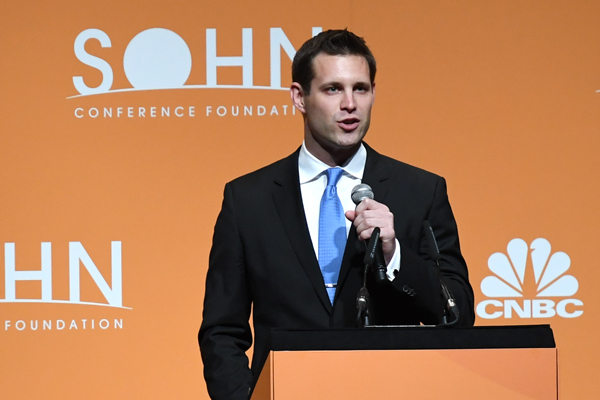 Marc Grow, '08, grew up on a small family farm in Warden, Wash. Today, he is well on his way toward achieving his goal of working on Wall Street. Grow, who majored in accounting at Whitworth, is an MBA candidate at Columbia Business School, in New York. Just weeks before concluding his first year of graduate school, in May, he won the prestigious Sohn Investment Idea Contest.
For the contest, industry professionals and business students submit investment-idea theses to a panel of prominent hedge-fund managers. This year's judges included Joel Greenblatt of Gotham Capital and David Einhorn of Greenlight Capital; the judges selected Grow's idea from among 100 competitors, based on the soundness of Grow's analysis and his investment idea's 12-month return potential.
"My idea involved a company, Dexcom, that makes a device for monitoring glucose levels for people with type 1 diabetes," Grow says. "I did some research on the company Medtronic a few years ago, after my cousin had been diagnosed with type 1 diabetes, and that's when I learned about Dexcom."
As the contest's grand-prize winner, Grow gave a 10-minute presentation on his investment idea to 3,000 attendees at the Sohn Investment Conference, held at the Lincoln Center in New York. The conference features top managers who share investment ideas, and proceeds from the annual conference - $70 million to date – support combating pediatric cancer and other childhood diseases.
Grow credits his experiences at Whitworth for establishing strong roots from which to, well, grow. "My accounting degree is foundational to my investment approach, but the most meaningful experience I had at Whitworth was the Jan Term Core 250 study program in Europe led by [Professor of Philosophy] Forrest Baird," Grow says. "This experience challenged my thinking and broadened my perspective. It opened my eyes, and my small-town worldview shifted: I could set bigger goals and dream bigger dreams."
At Whitworth, Grow played safety and outside linebacker on the football team, and he served on the leadership team of the Business Student Organization (now the Business Club). "The organization was instrumental in establishing my path into investment management," he says, "because we asked David Pointer, the founder of VI Capital Management, to speak to the business students about investing."
Pointer became a mentor to Grow, who graduated from Whitworth a semester early and joined Moss Adams LLP, a public-accounting firm in Spokane, where he was promoted to senior accountant. During this time Grow continued to meet regularly with Pointer; Grow then joined Pointer at VI Capital as an equity analyst, analyzing companies across geographies, market caps and sectors. He went on to take a similar position at Lakeside Capital Group, and his work there affirmed his passion for public-market investing.
As he gained experience in the investment industry, Grow earned certification as a public accountant and he became credentialed as a Chartered Financial Analyst. Even with his strong résumé of work experience, Grow knew he was still a young investor with much to learn. "I believed my next step of growth would need to come from exposure to differing perspectives and taking on areas of the market that were unfamiliar to me," he says.
He began researching and evaluating MBA programs and landed on Columbia Business School's Heilbrunn Center for Graham & Dodd Investing. This spring Grow applied and was selected as one of 40 students to participate in Columbia's Value Investing Program, which includes a rigorous curriculum for second-year students at the business school. Grow also serves as co-president of the Columbia Student Investment Management Association. This summer he's interning in Boston as a research analyst, covering U.S. auto dealerships, at Fidelity Investments. After earning his MBA in 2017, Grow plans to work as a research analyst and eventually as a portfolio manager at a top-tier investment firm.
Photo courtesy of The Sohn Conference Foundation.