Alumna's award-winning research delves into the intersection of communication and health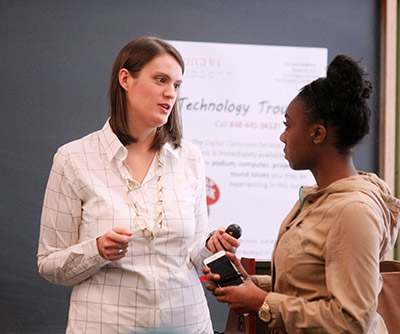 A parent caring for a disabled child. A young adult trying to lose weight. A spouse receiving a troubling medical diagnosis. In challenging but common situations such as these, Meara (Hall) Faw, Ph.D., is an expert at quantifying how social support can affect our stress levels and improve our interpersonal relationships, and her groundbreaking research in the field has earned international recognition.
"I really love working with biomarkers and trying to understand the physical connections to our social relationships," says Faw, a 2008 Whitworth alumna whose scholarship resides at the intersection of interpersonal communication and physical health.
Faw, an assistant professor at the Rutgers University School of Communication and Information, recently received the Outstanding Dissertation Award from the International Communication Association's Interpersonal Communication Division. The National Communication Association honored her with the same award, which recognizes the research she conducted at the University of Washington for her dissertation, "Supporting the Supporter: Social Support, Stress, and Well-Being among Caregivers of Children with Severe Disabilities." For her research, she used saliva samples from parents of children with severe special needs to measure how the support they received affected their stress levels.
"The type of research I do gives scholars, physicians and advocates a concrete language to talk about what happens when our social relationships are not what we want them to be, and how that really can be damaging for our health and well-being," Faw says. "I think that's an important role for communication scholars to play."
Faw's research interests and career path were sparked at Whitworth, where she double majored in communication and Spanish. She had initially taken science courses and planned to become a physician, but two communication courses provided "a-ha!" experiences that changed her goals.
In the Communication Theory class, professor Ron Pyle illustrated how complex communication interactions and theories play out in our everyday lives. "I suddenly was privy to unique, systematic ways of exploring and understanding relationships," Faw says. "It was illuminating and exciting in ways that no other course had ever been before."
The Communication Research Methods class, taught by Alan Mikkelson, empowered Faw to ask her own questions and seek answers to them. "There is nothing more powerful than feeling like you can ask questions that no one has thought of before," Faw says, "because you are confident that you can conduct research to find the information you need."
This was also the first class in which Faw encountered research showing that communication has a direct influence on our health and well-being; this realization was a major turning-point for Faw. "Dr. Mikkelson's own research and experiences helped me realize that I could have this perfect intersection of fields I loved," she says. "I could understand how people's relationships and social worlds made them happier and healthier at a physiological level. Ever since, that has been my goal."
Faw credits her Whitworth education and the faculty-student research she conducted with Mikkelson for preparing her to thrive in a challenging graduate-school program at the University of Washington, where she earned an M.A. and a Ph.D. in communication. "The hands-on experience conducting research at Whitworth gave me great insight and experience to easily transition into a research career of my own," she says.
In addition, Faw's experiences with her Whitworth professors instilled in her a unique perspective on the student/professor relationship. "I bring a slightly different perspective to my teaching and student interactions because of how caring and invested my professors were at Whitworth," Faw says. "It is my goal to, as much as possible, know my students and build a relationship with them. That isn't always the case with professors at large institutions who teach hundreds of students each semester."
Faw's faith also grew tremendously at Whitworth. "It often feels like academia and Christianity are in tension with one another, and in my experiences, people often assume that Christians don't have a respect for knowledge and academic inquiry like non-Christians do. This was absolutely not the case at Whitworth," says Faw, whose Whitworth professors demonstrated how faith and academic inquiry actually go hand-in-hand. "This empowered me to continue to ask questions and explore communication and relationships in ways that are deeply grounded in previous research and research traditions," Faw says, "as well as in my understanding of what relationships and interactions mean as Christians and followers of God."
Photos by Frank Wojciechowski