Attic Journals "upcycles" books destined for landfills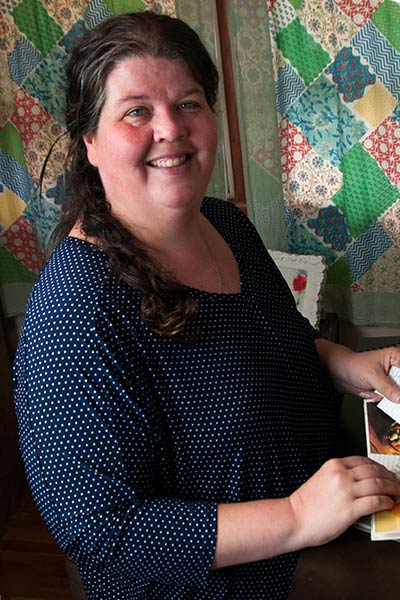 Michelle Sanders, '96, values books so much that she started a business that repurposes discarded books. In 2004 Sanders launched Attic Journals, which she often refers to as "The Humane Society for Books."™ Many weekends find her scouting library and school book sales in the Portland, Ore. region, where she harvests unsold books before they hit the Dumpster. Sanders also works with schools and libraries across the country to collect their unwanted books.
Back at her studio, Sanders, her husband, and two part-time employees repurpose the vintage hardbacks into spiral-bound journals. Each journal includes the book's original opening pages, where its new owner might find a library card or inscription, or inspiration to take the story in a new direction. No parts of the books go to waste: spines and library cards become necklaces and key chains, and pages transform into heart garlands. Sanders and her staff also make garlands and alphabet packs out of baby board books.
Sanders developed an interest in sustainability in high school, when she launched an ecology club, through which she gained a more global understanding of waste. As a Whitworth student, Sanders took a human ecology class in which she investigated what happens when our castoffs glut landfills.
"I realized that there is a quagmire at public institutions, because books are bought with tax dollars," Sanders says. "The unneeded books are supposed to be sold or thrown out. Whitworth taught me to see connectivity, to see a problem in the world and say, 'Let's be creative. What can we do with this?'"
At Whitworth, Sanders worked in the library and majored in elementary education/English. "Book knowledge was burned into my brain," she says. A children's literature course she took during Jan Term has proven to be particularly helpful for her business. "We work a lot with bookstores, so being able to assure them that I know what classic literature is – especially classic children's literature – is a big deal."
Attic Journals' items are carried in 220 stores in 29 states, and the business has distributors in Japan, Australia and Canada. On weekends, Sanders sells her creations at local farmer's markets and trade shows nationwide, when she's not scouring library and school sales. By upcycling books, Attic Journals keeps significant tonnage out of landfills, helps fund community education, and provides avenues for creativity for people around the world.
You can find Attic Journals at www.atticjournals.com, as well as on Etsy and Facebook.