Success of Whitworth Forensics Program and its director is undebatable
As director of Whitworth's trophy-amassing forensics program, Professor of Communication Studies Mike Ingram, Ph.D., fulfills a variety of duties.
"The job requires me to be part travel agent and counselor, part teacher and recruiter, part van driver, budget officer and coach," he says. "There are lots of hats to wear, but I love each one of them."
Ingram's passion for forensics is evidenced in his students' accomplishments and through his own achievements: he was recently honored with the Lloyd Crisp Critics Award by Oregon State University for excellence as a forensics judge.
Each year the OSU tournament director recognizes a forensics critic for his or her body of work. The tournament director selects a critic who has written ballots in speech and debate that are especially helpful to students with constructive comments, specific suggestions for improvement, and clear reasons for decisions, such as why a student won or lost a debate.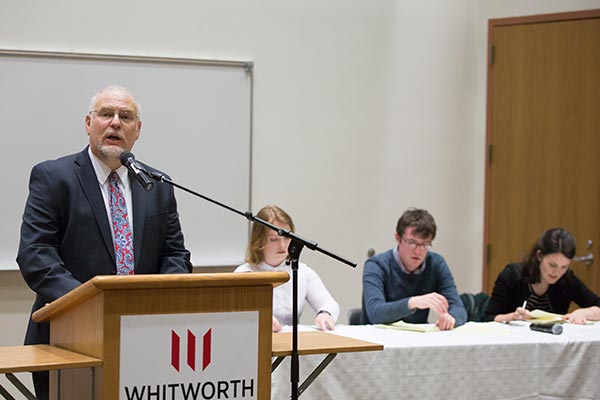 "At the OSU tournament, I worked in the control room to schedule debate rounds, record and tabulate the results of each debate, and oversee the draw of topics by students," Ingram says. "In a tournament with five preliminary rounds and three elimination rounds, the tournament director needs 80 topics. In advance of the tournament I submitted about 30 topics for consideration."
Whitworth's forensics team, the Arguing Bucs, took second place at the tournament, finishing ahead of regional rivals including Lewis & Clark College, Oregon State University, Pacific University and the University of Portland.
This year the Arguing Bucs also placed second overall at the National Christian College Forensics Association's national tournament, after having won the sweepstakes award four consecutive years, from 2013-16.
In addition to coaching Whitworth's forensics team, Ingram co-coaches the Whitworth Ethics Bowl team, the Philosoraptors, with Professor of Philosophy Keith Wyma. The Philosoraptors won the 2017 Independent Colleges of Washington Ethics Bowl for the third time in four years. The Arguing Bucs and the Philosoraptors compete against schools of all sizes, both public and private.
Ingram, who joined the communication studies faculty in 1988, says he wanted to teach at Whitworth because it reminded him of the Christian liberal arts college he attended in Tennessee as an undergraduate.
"Whitworth seemed like a place to get to know students inside and outside of the classroom, and to have meaningful conversations about life, learning and the Christian faith," he says.
Ingram coached Whitworth Forensics from 1988 until 1997, when the program was discontinued. He assumed the helm again in 2011, when the program was revitalized. One of his favorite coaching moments occurred soon afterward, during the International Public Debate Association's national tournament, which uses a one-on-one debating format.
"[Whitworth students] Krister Johnson and Jake Wilson were scheduled to meet in the quarterfinal round," Ingram says. "As coach I had to decide who would advance to the semifinals. Each man immediately pointed to his teammate and said, 'Advance him.' They were both concerned for their teammate and wanted each other to move forward."
This story signifies the supportive family atmosphere Ingram seeks to create on the team. He also enjoys watching students improve through their work in the program.
"I love seeing students become the speakers I knew they could become," Ingram says. "When students win trophies at tournaments, or find success in a new type of speaking, or after months or years of hard work they achieve a set goal, I smile with pride at their accomplishments."
Ingram's passion for forensics began when he joined his high-school debate team in tenth grade, originally thinking it might benefit him in a political or ministry career.
"I loved the structured exchange and the analysis of arguments and current events," he says. "Forensics scholarships enabled me to attend college, where I fell in love with the activity even more. Often I was a peer coach to my teammates and I enjoyed helping others become stronger. That kindled a love for teaching as a vocation."
Ingram holds a Ph.D. in rhetoric and public address from Ohio University. In addition to directing Whitworth Forensics, he serves on the governing board of the International Public Debate Association and on the executive council of the National Christian College Forensics Association, and he has judged many final rounds at national tournaments. He has also worked in the control room at several national speech and debate tournaments.
"Whitworth's forensics team works hard, works well together, has loads of fun, and demonstrates outstanding academic success in the context of the liberal arts," Ingram says. "I'm quite proud of our program and the many national champions it has produced."
Given Ingram's and his teams' success in debate, arguing any point they make is not advised.
For more information about Whitworth Forensics, visit www.whitworth.edu/forensics.