Alum crafts super career as NFL columnist for ESPN.com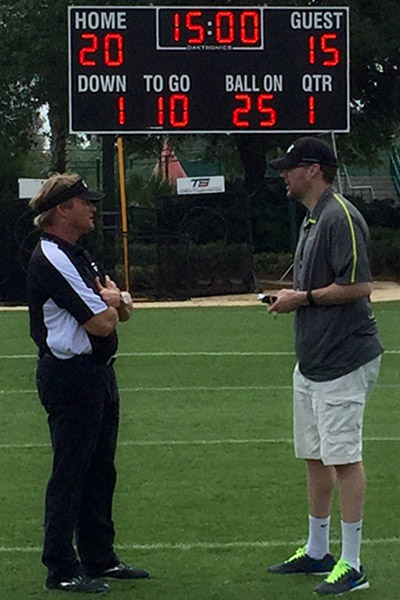 As a National Football League columnist for ESPN Insider, Mike Sando, '92, is working at the pinnacle of his profession in sports media. Sando combines analytics with insider perspectives he gleans from NFL executives, coaches and players to analyze the latest trends and topics in the game. He travels with and reports from Monday Night Football each week during the regular season, and he reports from Jon Gruden's QB Camp and the NFL Scouting Combine, as well as league meetings, training camps and minicamps. In addition, he serves on the 46-person selection committee for the Pro Football Hall of Fame and he has covered every Super Bowl since 1998.
As challenging and fulfilling as his job can be, Sando brings a unique perspective to his work and a penchant for eliciting advice from colleagues and mentors, whom he is quick to credit with helping him succeed.
Sando jumped into sports reporting his freshman year at Whitworth when he joined the staff of The Whitworthian, the university's student-run newspaper (he later served as the sports editor). A few weeks into the job he learned an important lesson when several football players living in his dorm took exception to an article he had written (and its accompanying headline, which he didn't write) about a lopsided loss and left a note on his door. "The experience served as a reminder that the stories journalists write are about real people," Sando says. "One key takeaway is that criticism is your best friend. So many times our natural reaction is to get defensive when criticized, but usually there's something we could have done better. I don't always do a great job of this, but it's something I keep in mind."
Thanks to the encouragement of classmate Greg Orwig, '91 (Whitworth's current vice president for admissions & financial aid), who was an editor at The Whitworthian, Sando contacted the sports editor at The Spokesman-Review, who hired him to help take high-school football and basketball box scores over the phone on Friday nights. That opportunity turned into an internship, then a job as a copy editor, and finally a job as a sports reporter after Sando graduated from Whitworth.
Sando majored in political science and minored in communication, and is proof-positive that a Whitworth liberal-arts education prepares graduates to succeed in virtually any field. "My plan all along was to major in something I found interesting, figuring the four-year degree would be more useful than a specific area of study," he says.
In addition to cultivating strong writing skills, Sando says understanding how to build relationships with sources is important, as is having a knack for synthesizing statistical analysis. "ESPN charts every NFL game in dozens of categories, creating the framework for robust statistical analysis," says Sando, who uses the charting information to supplement what he sees on the field. "It's a great way to spot trends."
Sando first joined ESPN.com in 2007 as a general NFL columnist before covering the NFC West division for the website for five seasons. He previously spent nine seasons covering the Seattle Seahawks for the Tacoma News Tribune, where his "Seahawks Insider" blog was twice named best media-affiliated sports blog by Editor & Publisher.
As a national columnist for ESPN Sando travels frequently, and as a husband and a father of two boys, Sando says, "The work-family balance can be challenging for anyone who loves both. My wife, Kim, gets my vote for Most Valuable Player every season. She's the key to making our family strong."
What's next for Sando professionally? "I've never really had career goals other than the initial goal of getting into sports media," he says. "My philosophy is, if you really enjoy what you're doing, you don't have to look for what is next."
Follow Sando's work at his ESPN blog and @sandoESPN.