Freshman reclaims his life at Whitworth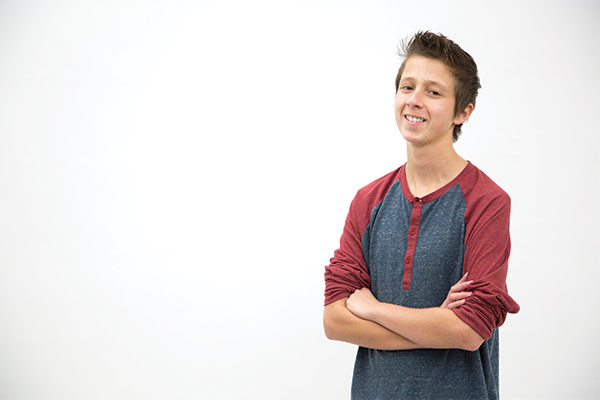 Mitch Carbon, '20, thought he wouldn't live long enough to graduate from high school, let alone attend college. Yet here he is – against staggering odds – a freshman at Whitworth. "Sometimes I think of myself as 'the boy who lived,'" he says, referencing the Harry Potter book series. Enduring cancer and overcoming a terminal diagnosis consumed Mitch's teen years. Now, at Whitworth, he's defining his self-identity apart from that of cancer survivor.
These are some of the things you'll discover when you befriend Mitch:
He loves Chinese and Italian food ("Olive Garden is dangerously close to campus," he says). He enjoys reading classic literature, but the Harry Potter series tops his reading list. "I have felt Harry's loneliness and Snape's anger at the world, and I've had to possess the same courage that both characters embody." He's artistic and creates graphite-pencil drawings. He's a big fan of the television show Saturday Night Live and the movies made by former cast members. He likes to watch movies and play ping pong with his friends, but he most enjoys getting to know them and spending time together.
"I've made so many new friends who like me for the person I am and not just because I had cancer," he says. "I'm having the most fun I've ever had."
Having fun became a rarity for Mitch when, on the first day of eighth grade in Spokane Valley, he was diagnosed with acute lymphoblastic leukemia, a type of cancer in which the bone marrow makes too many immature lymphocytes. During the next three years he fought through chemotherapy, radiation, surgeries, a bone marrow transplant, the loneliness of isolation, and missing months of school. He had two relapses; when the disease progressed to his brain, his doctors told him they had exhausted all treatment options.
Chemotherapy kept him alive through his junior year at University High School, although he relapsed twice more. With time running out and hope nearly extinguished, Mitch's parents made one final try: they got him approved for a risky, experimental immunotherapy treatment at Children's Hospital of Philadelphia. Mitch was the first youth in the world to receive the treatment when the disease has spread to the brain. After pulling through a five-day induced coma, Mitch relearned how to walk and talk, and he returned to U-High – cancer-free – for his senior year. Not surprisingly, the resilient fighter graduated with honors.
"I considered Whitworth early in my junior year, when I was thought to be terminal," he says. "College was still a goal that I was never ready to give up."
Mitch had heard of the sense of fulfillment and calling that Whitworth graduates gained, and he wanted to feel that happiness, he says. "At the time, my relationship with God was damaged. After reading online how Whitworth challenges its students to think critically and ask tough questions, I knew it would be a place where I could find peace with my faith, a place that would speak to the emptiness I felt."
Mitch hoped that at Whitworth, his soul would not only heal, but thrive. "I couldn't be happier with where I decided to take back my life," he says.
Mitch says he enjoys the university's welcoming culture and living in the high-energy Baldwin-Jenkins freshman residence hall. His professors are invested in helping him succeed and they care about his growth as a student. While he's still exploring academic majors and career options, he knows that he wants to help people the way others have helped him.
"I was so inspired by the teachers and nurses who took care of me when I was at my worst," he says. "Even though I don't know yet what my calling is, one thing is certain: when my life is over and I go to heaven, I want God to be waiting, excited to show me all the lives I changed for the better."