Nadia Sarfraz '20
Promoting inclusivity at the Smithsonian
As an intern at the Smithsonian in Washington, D.C., Nadia Sarfraz '20 is not only gaining incredible hands-on experience relevant to her majors, but also pursuing her special interests in diversity and inclusion.
Sarfraz is one of 10 students interning at the Smithsonian this fall through the Whitworth Honors Program. A biochemistry and speech communication double major, Sarfraz is working at two museums. She has taken on a handful of projects, including several aimed at better engaging diverse audiences through museum programming.
"It's exciting to apply what I have been learning in classroom settings to real-world situations," she says.
At the National American History Museum, Sarfraz is designing a training module for volunteers to help make the museum more inclusive. "This training is intended to develop understanding of implicit bias and how to combat it," she says. "This is particularly relevant as museum visitors come from all different backgrounds." She is also finding tactile materials to use on tours to support visitors with visual impairments and visitors who are children.
Sarfraz is also interning at the National Air and Space Museum, where she is observing "breathtaking developments in air and space technology," she says. She is researching the ethics of spaceflight and health implications for astronauts, supervising the volunteer visitor desk, and creating a "social story" to aid museum visitors who are on the autism spectrum.
"Diversity, inclusion and accessibility are all topics dear to my heart," says Sarfraz, who is from Zimbabwe. "I have always had a calling toward service, and I have the opportunity to serve through my work at the museums." At Whitworth, she manages RISE, a mentorship program that helps K-12 students achieve their potential.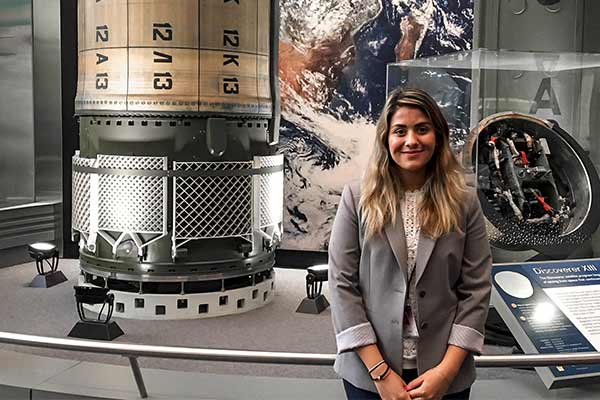 Sarfraz enjoys studying in two very different fields. "My passions have always been in the physical sciences and social sciences," she says. "Double majoring in speech communication and biochemistry has allowed me to develop in a holistic way."
This is the first time the Whitworth Honors Program has offered semester-long internships through its partnership with the Smithsonian. Safraz's experience in D.C. has helped her clarify her vocational goals; she intends to earn a law degree and use it to serve others.
"I have grown in many ways – not only academically, but personally and professionally," she says. "Living in D.C. has been developmentally priceless. I have had the chance to experience and speak to people in a variety of fields and careers, which has helped me come to know the direction I intend my life to go in. This has further inspired me to seek a life focused on serving humanity."