Teacher pays it forward
As a third-grade teacher in a high-poverty school in Spokane, Nichole Clark '12 works with many students who have experienced trauma. Clark knows what that's like, as she herself had an unstable childhood.
"I have been these students. I know what they are going through," she says. "I love that I get to teach, coach, mentor, advocate for and love on these students."
Clark is able to make a difference in children's lives as a teacher because of a series of events that helped her overcome her past and receive an education at Whitworth University. It started with her decision at 13 to attend church.
"I grew up in poverty, with very little," Clark says. "We moved around a lot and never felt a sense of stability. I was insecure and afraid about what tomorrow might bring until I began going to church."
At her Spokane church, she met people who "came alongside her" in life and helped her fundraise to attend Camp Spalding, a nearby Christian camp.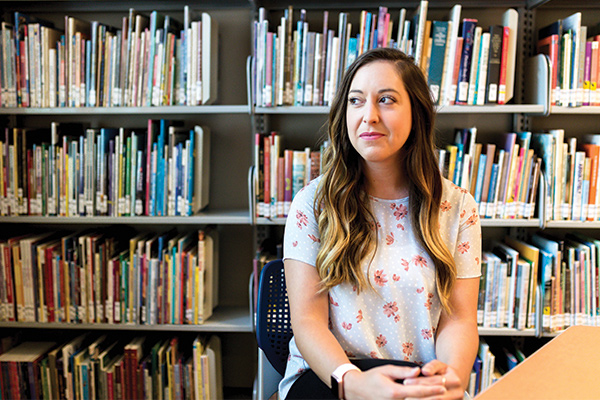 "Camp Spalding has and will always have a special place in my heart," Clark says. "It is there I found hope and encouragement that I could do anything with Christ by my side."
At camp, Clark met many Whitworth students and alums including Krisi Sonneland '93, who has worked there with her husband, Andy, since she was a Whitworth student. Sonneland felt Clark belonged at Whitworth and reached out to her networks to raise funds for Clark to attend.
"Nichole and I met, and I immediately knew she was someone that God wanted me to spend time with," Sonneland says. "I knew in my heart she was bright and had potential to break the cycles that were harmful for her as a child. She had no financial resources except what she earned herself working at Burger King in high school. I knew if she could be in the Whitworth community, her life story would be radically transformed and take a different trajectory."
Inspired by Sonneland and the other Whitworth alums she knew from church and camp, Clark decided to pursue an undergraduate degree in education from Whitworth.
"They inspired me to seek Whitworth because I wanted to be the kind of person they were to me, and I knew Whitworth could shape me to be that person," she says.
Clark says she couldn't have attended Whitworth without the aid of Sonneland.
Now Clark is inspiring a new generation of students through her job at Stevens Elementary. "I've always wanted to be a teacher," she says. "It is important for children to know and believe that they matter and that they can be and do anything in this world if they persevere and apply themselves."