Computer science prof practices what he teaches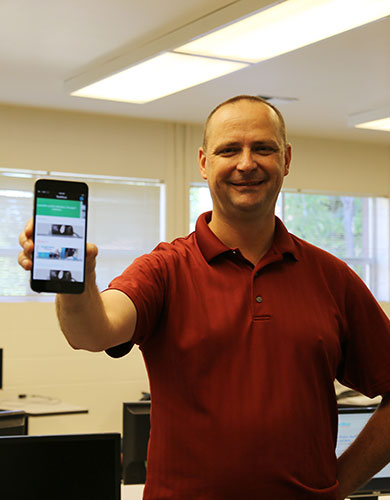 Pete Tucker practices what he teaches. Tucker, a 1991 Whitworth alum, is a professor and chair of the Whitworth Math & Computer Science Department. He is also founder and chief technology officer of LA Loosh Industries, a new software-development company that develops and markets smartphone apps that enhance personal relationships. The company recently published an iOS and Android version of an app called TextMuse.
In keeping with Whitworth faculty members' commitment to involving students in collaborative research and professional endeavors, computer-science major Lauren Pangborn, '15, created the app's user interface, which makes the app easy and efficient to use.
Tucker, a self-described computer geek, says that TextMuse makes staying in touch easier for busy people; the free app uses texting, a popular and widespread communication system. Through TextMuse, users access and share information such as inspirational quotes, news, daily deals, recipes, photos and stories. Content is updated daily, with many categories to browse.
"Unlike other messaging apps out there that require both the sender and the recipient to have downloaded the same app," Tucker says, "our users can share with anyone (moms, dads, significant others, grandparents, clients) because their messages are sent as texts to anyone's device."
After earning a degree in math and computer science at Whitworth, Tucker completed a Ph.D. in computer science and engineering at Oregon Graduate Institute School of Science & Engineering at Oregon Health and Science University. He worked for eight years as a software-design engineer for Microsoft Corp. and joined Whitworth in 2003. Since 2009 he has served as a consultant in software quality assurance for Next IT, a software company based in Spokane.
TextMuse is available for download on Apple via the iTunes store, and on Android via the Google Play store. For more information, visit www.TextMuse.com. You can also read more about Tucker and TextMuse in this recent Journal of Business article.
In this Whitworth125-second video, Tucker invites you to join the "Cool Kids Club" by learning how to build efficient database management systems that minimize what systems engineers call the "trip to Pluto."