Whitworth professor joins charge in reforming Washington state education policy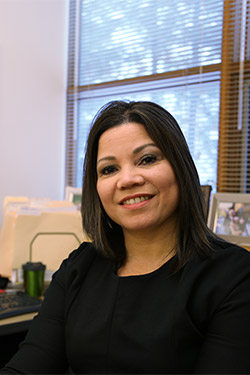 Whitworth Assistant Professor of Economics Vange M. Ocasio Hochheimer, seeking to ensure that every student, regardless of race or socioeconomic background, has access to quality education, will serve a three-year term on the board of the Seattle-based League of Education Voters. Ocasio was appointed to the LEV board in December 2014.
"My service with the LEV will allow me to experience and participate in real discussions that are shaping education policy in Washington state," she says. "My service will also give Whitworth a stronger voice on issues concerning higher-education policy."
The League of Education Voters was founded in 2001 by Washingtonians to support an education system that provides all students an equal opportunity for success, from cradle to career. Working on behalf of students, the LEV has successfully led the charge on many landmark funding and policy decisions, helping to improve the education landscape in Washington.
Recently, the LEV accomplished passage of the REAL Hope Act, known elsewhere in the nation as the DREAM Act, which expands college and financial aid and makes college more accessible and affordable for all students, regardless of immigration status.
"A better and equal education system is consistent with Whitworth's mission of honoring God, following Christ, and serving humanity," Ocasio says. "Ensuring that every student, regardless of race or socioeconomic background can obtain a quality education is a direct fulfillment of Christ's teachings about inclusion and affirms that we are all part of God's creation and made in his image."
Ocasio is one of many Christian teacher-scholars at Whitworth committed to advancing their understanding of the world, thereby enriching their classrooms and sharing their discoveries with students.