The Dean's Executive Speaker Series
Beck A. Taylor
President, Whitworth University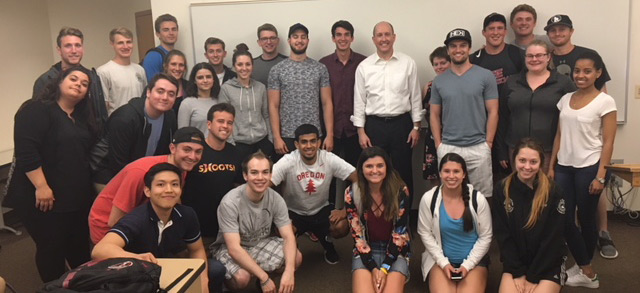 Beck A. Taylor, Ph.D., became the 18th president of Whitworth University in July 2010. He came to Whitworth after serving as dean and professor of economics for the Brock School of Business at Samford University (Birmingham, Ala.) and as associate dean for research and faculty development for the Hankamer School of Business at Baylor University (Waco, Texas), where he was also the W.H. Smith Professor of Economics.
In his first year as Whitworth's president, Taylor led the development of Whitworth's 10-year vision and strategic plan, Whitworth 2021: Courage at the Crossroads, which details plans to continue to elevate Whitworth among the leading Christian universities in the country. Taylor's first eight years at Whitworth have been highlighted by a renewed emphasis on community involvement; efforts to enhance academic quality, including the creation of the College of Arts and Sciences and a new honors program; the building of new campus infrastructure to facilitate the university's academic, athletic and student life programs; the creation of newly endowed faculty positions and centers; spearheading Whitworth's largest comprehensive fundraising campaign; and an emphasis on overall institutional effectiveness.
Taylor and his wife of 25 years, Julie, have three children: Zach, who attends Belmont University, Lauren, who attends Whitworth University, and Chloe.
Tips for Success
Lead through mission while articulating vision. Rinse, wash, repeat...
If everything is important, then nothing is. Students are my No. 1 priority.
Take account of relational, emotional and leadership capital.
Relationships are key; trust is essential. Ask the question: "Who needs the love today?"
Expect to disappoint people.
Know the difference between role and identity, and extend grace upon grace.
Always think the best of people.
Sometimes process trumps outcomes.
Do your research - be good at what you do! Be an expert. They can't accuse you of being misinformed.
Always take the high ground. Did I say always?
Assume the best, not the worst of people. Never stoop or you will lose integrity.
Put social media in its place. It gives the illusion of power and impact.
Be willing and ready to admit mistakes.
Keep a sense of humor.
Surround yourself with people who love you and will speak truth (and get a dog).