The Dean's Executive Speaker Series
William P. (Bill) Robinson
President Emeritus, Whitworth University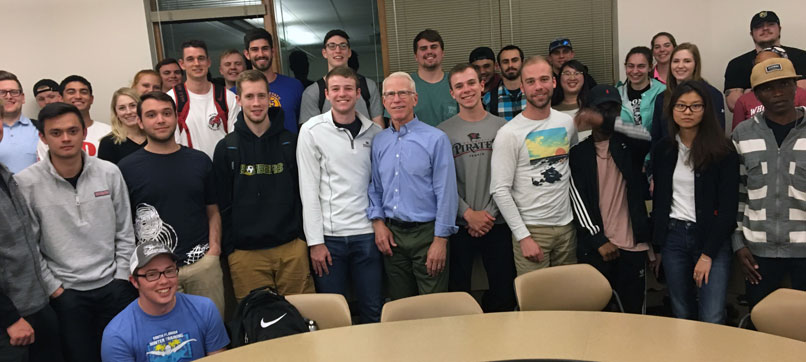 William P. (Bill) Robinson is president emeritus of Whitworth University. He served as Whitworth's 17th president from 1993 to 2010. Previously he served as president of Manchester College, in Indiana, from 1986 to 1993. His tenure as Whitworth's president was the second longest and one of the most influential in the university's history.
With uncommon clarity, Robinson understood and articulated the "Grand Paradox" of Whitworth's mission to uphold Christian conviction and intellectual curiosity as complementary rather than competing values. Inspired by Robinson's leadership, Whitworth students, faculty and staff joined with alumni, donors and friends to achieve record levels of freshman applications, enrollment and retention; $83 million in campus improvements; and a $75 million increase in the university's endowment.
In his role as president emeritus, Robinson works closely with Whitworth President Beck A. Taylor and the university's institutional advancement staff on external relations. He also writes and speaks widely on leadership, organizational culture and communication in corporate, non-profit and ministry settings.
Tips for Success
You assemble a vision, you don't impose a vision.
Make trust deposits.
Sit down, shut up and ask questions.
Stay close to the people you lead.
Be transparent.
It's not about us.
Be charitable.
Tell the truth.
You get what you give.
The finish line is the best place to start.
Values outperform rules.
If you develop the concept of enough, you will be set free from more.
Rules: erode judgement, can betray values, focus on boundaries, control people vs. Values: develop judgement, elevate their performance, focus on the heart, trust people.
Offense outperforms defense.
Defensiveness undermines listening and problem solving.
Redemption is the best option.