The Dean's Executive Speaker Series
Carolyn Kadyk
Executive Director, MultiCare Inland Northwest Foundation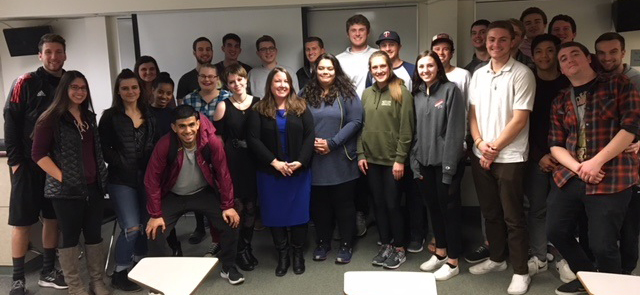 Carolyn Kadyk is the executive director for the MultiCare Inland Northwest Foundation, part of MultiCare Health System. Carolyn has 15 years of business experience in marketing, communications and philanthropy, including almost 12 years in healthcare, focusing on community health, volunteer management, business development and philanthropy. She has also worked in radio and television in Seattle and Los Angeles.
Carolyn holds a B.A. in journalism & mass communication from Whitworth University, and a master's in organizational leadership and executive certificates in organizational development and public & non-profit leadership from Chapman University. Carolyn is a certified trainer and facilitator for Myers Briggs Type Instrument and Kiersey's Temperament and is also trained in Lean methodology. She is a skilled facilitator and presenter.
Carolyn, her husband, Jonathan, and their two boys moved to Spokane from Puyallup, Wash., in 2017 as part of the MultiCare/Rockwood Health System Executive Team. She enjoys hiking, skiing, traveling and finding ways to serve in the community. She is excited to be reconnecting with Whitworth to support the next generation of students.
Tips for Success:
Don't put yourself in a box.
Celebrate and enjoy the fruits of your labor.
Take change in stride - great things can happen.
Always learn new things.
Work hard, roll up your sleeves and work with your team.
Care for others.
Climb high and enjoy the view.
Cross the bridge into the unknown.
Friends are important.
Know where your life vest is at all times. What is your backup or safety plan?
Let yourself be held. Sometimes you will be scared, tired or overwhelmed.
Let someone else take the lead and support them.
Find what you love.
Keep your eyes open for new discoveries.
Internships: Get there early, leave late and network.
Know who you are and what you are willing to do, and not do, before you ever walk into the room.
Listen: Be present in every conversation.
Ask a lot of questions.
As the "why" of what you're doing.
Ask for a mentor.
Learn the art of saying "no."
Say no, but give a nugget of what they need.
Be present in the moment.
Be willing and open to receiving feedback.
Be positive: glass half full.
No one can take your integrity from you.
Work for organizations with values that align with your values.