The Dean's Executive Speaker Series
Erin Lydon
Investor, Corporate Director, Speaker and Coach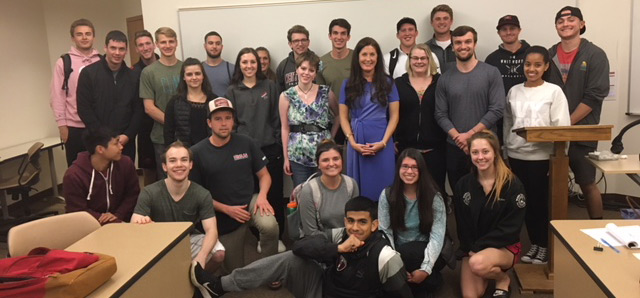 Erin is an investor, corporate director, speaker and coach. She is an experienced C-suite advisor with particular expertise at distilling complex market, financial, shareholder and client perspectives into clear strategic actions. She specializes in strategy, team management and retention, and topics related to women in business.
Born in Maine, Erin received her degree in English literature and French in 1992 from Bates College, where she wrote an honor thesis detailing her nine-month adventure in Cameroon, Africa. Upon graduation, Erin relocated to Chicago and quickly pivoted from a career in publishing to become a fundraising executive working closely with the city's leaders in business, finance and law. Following her work as the director of development at the Northwestern Memorial Foundation, she received her MBA from Northwestern University's Kellogg School of Management with majors in finance, management & strategy and international business. She led a delegation to Brazil in 1998 that increased corporate ties between companies based in Sao Paolo and Chicago. In 1999 she joined JPMorgan Chase, where she managed client and corporate relationships for some of the bank's most high-profile families from across the United States. This network led to advisory work that she continues today.
Prior to moving to the Spokane area in 2010, Erin and her family lived in San Miguel de Allende, Mexico, and Brookings, S.D., where she served on the board of the Boys & Girls Club. She served as an independent corporate director for a technology company based in Denver, and for a Chicago-area privately-held brain health company. She helped transition both companies through their sales to other entities in 2015.
Currently, Erin speaks on business topics including "Women in Finance" and "10 Things Your MBA Won't Teach You." For the past five years, she has coached North Idaho XC, a Junior Olympic team comprised of 33 elite youth runners including six All-Americans.
Tips for Success
Be indispensable.
Do more.
Adapt to the boss's style.
Details matter; spend the extra five minutes.
Fess up.
Give credit.
Bring solutions, not problems.
Be an insider; have the pulse of what's going on.
Be empathetic, genuine, respectful, a good listener, interested in others, trustworthy, funny, a good storyteller.
Take everyone to lunch.
Map your network.
Build your dossier.
Tips for Choosing a Mentor
A mentor is a wise and trusted counselor or teacher; an influential sponsor.
Choose a champion.
Be willing to learn.
Get comfortable with discomfort.
See one, do one, teach one.
Not a fit? Seek another.
Boardroom Advice
Speak in the first five minutes.
Know the numbers.
Enlist allies.
Be the problem-solver.
Know your answer.
If you disagree, say so.
Claim your achievements.
Don't overvalue tenure/titles.