The Dean's Executive Speaker Series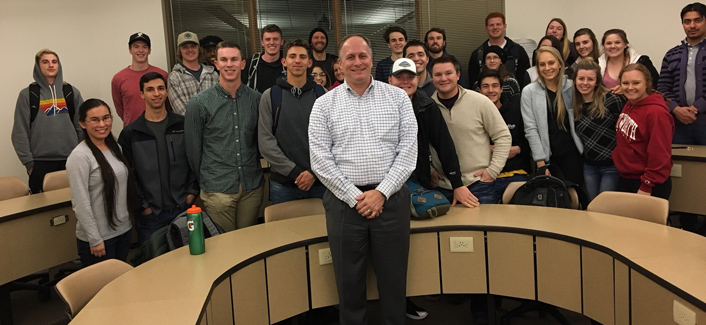 Jason Thackston
Senior Vice President, Avista Corp.
Jason Thackston '92 is the senior vice president for Spokane-based Avista Corp. He is responsible for overseeing the utility's gas and electric transmission and distribution operations. He previously served as Avista's vice president of finance, overseeing financing and capital activities and being involved in corporate development, investor relations, risk management, and planning and analysis. He joined Avista in 1996 and has held leadership positions in customer solutions, energy delivery, finance, risk management, investor relations and corporate development.
Thackston earned a B.A. in international studies and business management from Whitworth in 1992, and he earned an MBA from Gonzaga University. In addition to serving on Whitworth's board of trustees, he serves on the boards of the Pacific Northwest Utilities Conference Committee, the Northwest Gas Association, and the Health Sciences and Services Authority of Spokane County. Previously, he served on the boards of the YMCA of the Inland Northwest, the Northwest Business Development Association, and the Business Development Corporation of Eastern Washington.
Thackston's wife, Julie, is also a '92 Whitworth grad, and they have five children.
Jason Thackston's Tips:
Be open to unexpected shifts in direction.
Most leadership development happens by "doing." Seventy percent of leadership is obtained by doing. Twenty percent is learned by others. Ten percent is educational experiences.
"Learning by Doing" Lessons:
Leadership: Creating a vision with other employees and seeing how they can grab ahold of it.
Developing trust with the people with whom you are working opens doors and collaboration.
Leadership is situational. Get to know people so that you can communicate. Motivate and discipline them effectively.
Learning from Others:
Develop a network of relationships with people across the company.
Mentor, and be mentored by, people with different skill sets and attributes.
Read articles and books, and then decide what it means for your company.
Volunteer to be part of project teams.
See the need, meet the need.
Everyone has different motivations.
We never really know what is going on in people's lives outside of work. Give people the benefit of the doubt, and a dose of grace.
Read periodicals and books.
Get involved in industry associations.
Tips for Success:
Leadership skills are as important, or are more important than, subject matter knowledge.
Self-awareness and emotional intelligence are important.
"How" we get things done is as important as "what" gets done.
Start with "why": Begin with the end in mind. Get people on board and they will come up with more effective ways to get there ("Go slow to go fast").
Relationships matter. Seek first to understand, then to be understood.
Find balanced solutions: Think win-win.
Be a lifelong learner.
Embrace change. Try to understand trends.
Look for cross-experiential learning.
Book recommendation: "Good to Great" by Jim Collins