The Dean's Executive Speaker Series
Jennifer Lehn
Chief Operations Officer, Numerica Financial Services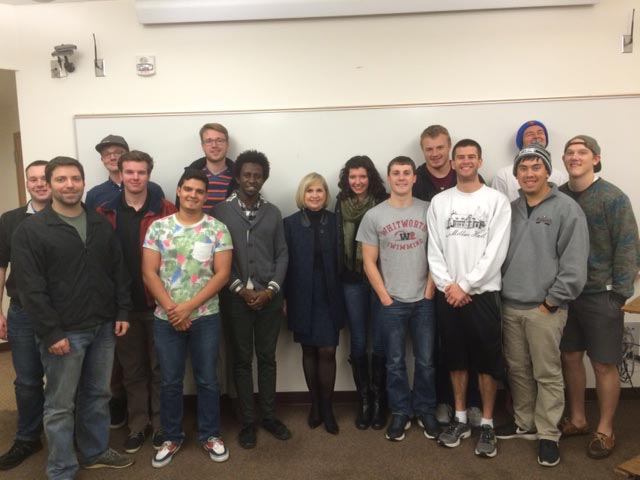 After spending 10 years auditing financial institutions with a regional CPA firam, Jennifer Lehn joined Numerica Credit Union in 1989 as chief financial officer. She currently serves as chief operations officer, and she is responsible for retail service delivery and lending at Numerica Financial Services. Lehn holds a bachelor of science in business from the University of Idaho, with majors in finance and accounting. She is a certified public accountant and a certified management accountant.
Lehnr has served as chair of the Credit Union National Association, CUNA CFO Council Executive Committee. She was also a member of the League Services, Inc., board, and served a three-year term on the American Institute of Public Accountants Credit Unions Committee. In the Spokane community, she has served on the board of Gonzaga Preparatory School and has chaired Gonzaga Prep's finance committee. She is allocations chair of the Women Helping Women Fund of Spokane, and is a board member of Leadership Spokane.
When she's not at work, Lehn enjoys her two boys, two dogs, skiing, hiking and golf. She also enjoys boating and stand-up paddleboarding around the family cabin, in Priest Lake, Idaho.
Tips for success:
Find good mentors.
Be willing to do what is asked of you.
Take advantage of the opportunities that college presents.
Use anyone who can help you.
Make use of your internships and previous job experience.
Prepare for predictable interview questions.
Be a strong story-teller.
Thoroughly investigate your potential employer.
Make your boss look good.
Anticipate what your boss might need.
Always raise your hand.
Be an interesting person.
In networking, try to "give" first.
Assess the culture, and determine if you fit.
Know when you need help.
Welcome competition: It makes you better.
Learn how to deal with change.
Become a comfortable public speaker.
Support your community.
Join volunteer boards in order to establish leadership.
Do not sit silently. Become a leader.
Learn how to balance work and family.
Whatever you do, do not compromise your values and ideals. Always be true to yourself.
Tips for your First Week on the Job:
Your life should be centered on the job.
Introduce yourself to other people constantly; be visible.
Find experienced staff willing to help with "soft" knowledge.
Ask lots of questions.
Clarify expectations with your boss.
Figure out the culture.
Seek to discover ways to make your life easier when things go sideways.