The Dean's Executive Speaker Series
Shelly O'Quinn
CEO, Inland Northwest Community Foundation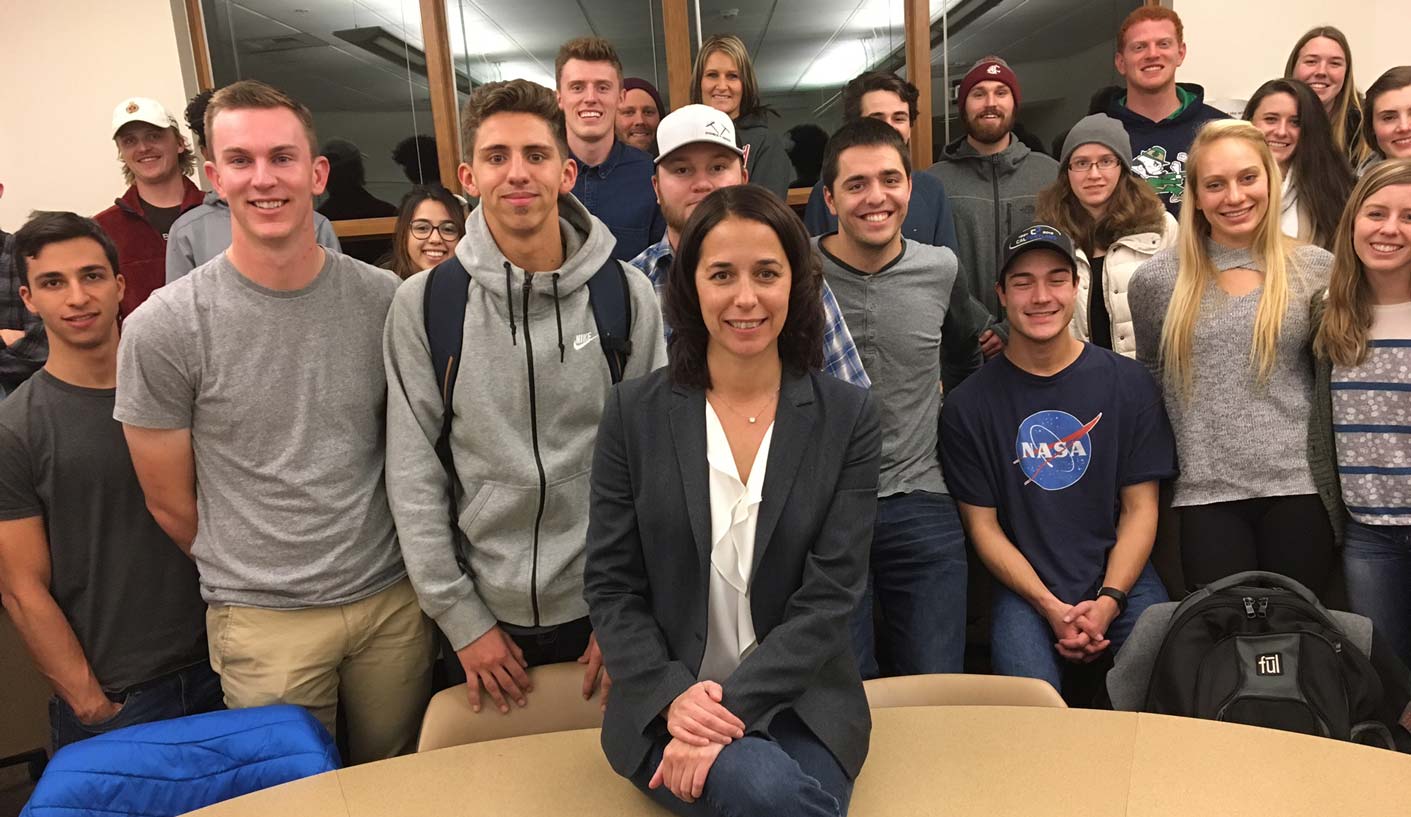 Shelly was born and raised in Spokane. She graduated from Central Valley High School in 1993 and graduated from Whitworth University with a degree in accounting and business management in 1997.
After graduation, she and a friend purchased one-way tickets to Mexico and spent the next three years working and traveling across Central America, going as far south as Panama. In Honduras, Shelly secured a job working as a microenterprise business developer for World Vision International, a global Christian relief, development and advocacy organization dedicated to working with children, families and communities to overcome poverty and injustice.
After she returned to the U.S., she enrolled at Middlebury Institute of International Studies in Monterey, Calif., where she earned her MBA in 2001. Shelly then moved to Florida, where she was hired as the missions director for a 3,000-member church.
She returned to Spokane in 2004 and worked the next three years as the director of family services for Habitat for Humanity Spokane. She accepted a job as the senior program officer at the Inland Northwest Community Foundation in 2007.
In 2008, she began her work with Greater Spokane Incorporated as education & workforce development director. She served in this capacity until 2012.
Shelly served as a Spokane County commissioner from 2013-17. Among her accomplishments as a commissioner, Shelly lists an ongoing effort to implement "lean management" strategies that cut costs and bureaucracy, as well as several appeals to the Legislature that have benefited the county. Among those victories is a bill, currently awaiting the governor's signature, that would allow the county to better maintain land set aside for conservation. As a commissioner, Shelly earned a reputation as a team builder and agent of change, representing Spokane County interests on 20 regional and statewide boards and commissions.
Shelly is currently the CEO of the Spokane-based Inland Northwest Community Foundation. The foundation manages more than 450 funds valued at more than $113 million, which have been established by individuals, families and businesses. During the 2016 fiscal year, it gave out a record high $4.9 million in grants. The foundation has close to 100 nonprofit partners, including organizations such as Blessings Under the Bridge and Second Harvest Food Bank of the Inland Northwest.
Shelly's key themes and recommendations in the work setting:
Invest in staff.
Work is not about the money; it's about the relationships.
Political campaigns are a great way to meet people.
A mentor is a way to be challenged to new ways of thinking and activities.
Leadership is not a position or a title; it's a role you fill.
Good policy creates good politics.
Be humble; ego will kill a good leader.
Successful people know when to ask for help.
Help others succeed.
Don't burn bridges.
Invest in yourself, i.e., self-care, workouts, time away.
Do what you love, what you are passionate about; happiness is better than a paycheck.
Set goals and have a plan.
"Be a buffalo, not a cow." (In a storm, a buffalo faces into the storm whereas cows seek shelter.)
Create a book list: She recommends "Lean In" by Sheryl Sandberg, anything by management guru Patrick Lencioni, and "The Leadership Lessons of Jesus" by Robert Briner.
Tips for Success:
Travel before you are tied down with responsibilities.
Turn lemons into lemonade.
Never assume others will think poorly of you just because you make a poor decision.
Invest in the development and career success of your staff.
If you don't love your job, it's time to get out.
It's not just about the money, but the relationships and opportunities.
Don't change jobs frequently unless you are moving up.
Find mentors.
Practical Advice:
Leadership is not a position or a title, but a behavior. No one is too good to scrub a toilet. You should be willing to do every single job in an organization that needs to get done.
Work hard.
Show up on time and show initiative.
Don't be afraid to walk through an open door.
Make the right decision, not the popular one.
Own your mistakes. There is nothing more powerful than saying "I'm sorry."
Ego kills leadership; stay humble.
Always ask and always try.
The more you help others, the more successful you will be.
Time goes by whether you do something or not.
24-hour rule: You have 24 hours to feel sorry for yourself, then move on.
Life is 10 percent what happens to you and 90 percent what you do with it.
Be a continual learner.
Only you can say no. Control your schedule.
Don't get a life partner who you need to fix up, but someone going in the same direction.