A Driving Force for Veterans
He's on the road more than 200 days a year, traveling to 33 counties throughout Washington, Oregon, Idaho and Montana.
Robert "Stu" Sturtevant, '10, MBA '18, is a U.S. Air Force retiree who served for 23 years, including in the Gulf War and Global War on Terrorism. After earning his bachelor's in organizational management at Whitworth, Sturtevant was hired as the office manager for the Spokane Vet Center. In 2016, he began a different role as operator/outreach program specialist for the Spokane Mobile Vet Center. He drives a self-contained RV loaded with all the necessities – a satellite dish for conferencing, a fax machine, a copy machine and everything he needs to make sure military veterans in rural areas get the critical benefits and services they need.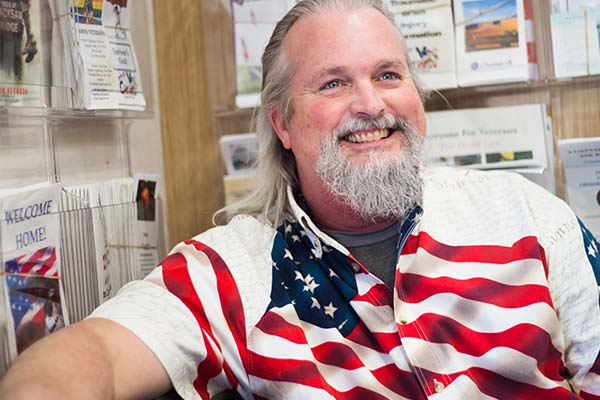 While doing all that driving, Sturtevant discovered something unexpected, and the wheels started to turn. "In 2015, I found out I still had my G.I. Bill," Sturtevant says. "I thought, 'wow, that's a no-brainer.' I knew I wanted to come back to Whitworth because I loved it when I did my undergrad here. This school is really remarkable. There was no question where I wanted to go; I just needed to get back into it."
Sturtevant was accepted into the Whitworth Master of Business Administration Program. Night classes allowed him to keep his job at the vets center. He says it's a job that truly puts to use the mind-and-heart education he received at Whitworth.
"You run across a lot of people with cancer, mostly terminal from Agent Orange," he says. "Sometimes you're helping them get their affairs in order, trying to get a place at the cemetery. But it's very gratifying to get compensation for them, to make sure their spouses are taken care of, you know, at the end there," he says, his voice trailing off. "That part is hard … but it's really rewarding."
Sturtevant will read Scripture, Matthew 25:14-27, at Whitworth's 2018 graduate commencement ceremony on May 19. He says it's an honor to have been asked, and with his contagious smile and North Carolina accent says, "I asked them, please, please tell me what I'll be reading early on so I can practice and not sound so Southern."
As for his plans down the road? He'd like to put his training to good use and one day help open a veterans resource center at Whitworth.