Chapel Community Worship
About Chapel
When: Tuesdays and Thursdays, 11-11:30 a.m.
Where: The Chapel and livestream
This twice-weekly worship service allows the Whitworth community to gather together in an expression of our commitment to honor God, follow Christ and serve humanity. Each worship service is led by the campus ministry staff and student leaders as we draw upon all that has been given to us: the Bible, the two millennia of church tradition, the best of contemporary music, the spirituality of written prayers, the sharing of Communion together, the power of liturgical symbols and dance, the joy of global music and the witness of the worldwide Christian community.
Tuesday services are centered on the chapel theme for the semester and typically include two to three songs of praise, prayer and a short sermon connected with the chapel theme. Every Thursday, we gather around the table to celebrate the Lord's Supper as we learn and grow in our various gifts and offer our lives to God through diverse worship styles. Services will be led by Whitworth University choirs and by sacred dancers and many other members of the Whitworth community.
We will be serving communion on Thursdays and will be featuring testimonies from various individuals on campus.
Keep up with what is happening with campus ministry on our Instagram, @whitworthcampusministries.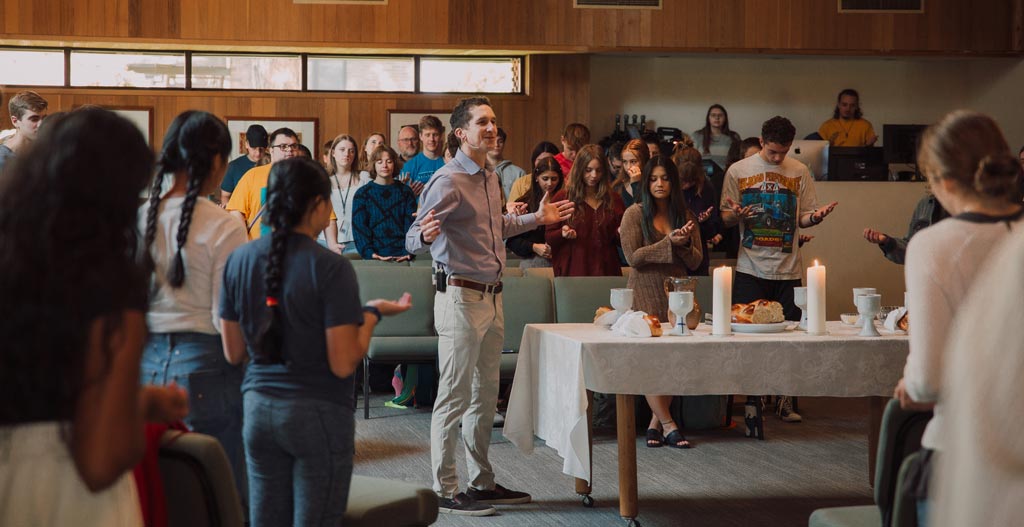 Honest Life with a Good God: Meeting God in the Old Testament Writings
The Old Testament writings include Psalms, Proverbs, Ecclesiastes, Ruth, Song of Songs and more. Included in our Christian Scriptures, they invite us to be fully honest with God, to bring every element of our human existence before God. We are invited to praise God, question God, be mad at God, thank God, live for God, confess to God, rest in God, ask where God is, affirm deep trust in God, be wise through God and more. This semester at Chapel, we will encounter God through these writings and explore these elements of human life with God alongside one another. Join us in this honest and thrilling journey to a more honest and fruitful life with Jesus together!
| Date | Theme | Date | Theme |
| --- | --- | --- | --- |
| Feb. 2 | Convocation | March 21 | Psalm 88 (and Job) Lament - Honestly Crying Out to God in the Darkness |
| Feb. 7 | Psalm 23 - Honest life with a Good God - Intro Overview | March 23 | Communion |
| Feb. 9 | Communion and Student Testimony | April 4 | Psalm 22 - Jesus' Passion, Lament, and Hope |
| Feb. 14 | Song of Songs - God's Gift of Embodiment | April 6 | Communion and Maundy Thursday |
| Feb. 16 | Communion and Student Teacher Commissioning | April 11 | Psalm 34 - Thanks for God's Deliverance! |
| Feb. 21 | Psalm 145- Praise! | April 13 | Abundance Communion |
| Feb. 22 | Ash Wednesday - 7:30 a.m. | April 18 | Ecclesiastes Overview - "Meaningless" |
| Feb. 23 | Communion and Lent's Beginning | April 20 | Testimonial |
| Feb. 28 | Ruth - Selfless and Heroic Neighbor Love | April 25 | Ecclesiastes 6, 7:1-2 -Live Like You are Dying (The Art of Dying) |
| March 2 | Communion and Testimony | April 27 | Communion |
| March 7 | Psalm 51 - Confession | May 2 | Proverbs 30:7-9 -"Just Enough" : Receiving Our Daily Bread |
| March 9 | Communion - Extended Prayer for World/Justice | May 4 | Communion |
| March 14 | Job - Why Bad things Happen (and Why We Can't Answer that Question) | May 9 | Proverbs 2:1-8, 3:1-6 - The Feat of the Lord and Seeking Wisdom |
| March 16 | Communion | May 11 | Final Communion |