Emmaus Scholars Program
An intentional Christian community of faith, learning and justice
Emmaus is a one-year intentional Christian community that brings together spirituality, theology and justice. By dynamically integrating these three components – the heart, the head and the hands – Emmaus provides Whitworth students a chance to go deeper in their walk with Christ, grow in knowledge of their faith and learn why the gospel matters for the real world.
The Three Foundations of Emmaus
The Heart
Students practice intentional spiritual community while living in Emmaus Houses on campus.
Students commit to a weekly rhythm of prayer, worship and Scripture reading.
Students gather weekly for the Emmaus Family Meal. A special guest like a pastor, professor or community leader will join students around the table each week.
The Head
Students take two theology courses that examine how Christian spirituality motivates us to participate in God's redeeming love for the broken world.
Students take these courses together, thereby enacting their belief that we encounter God in the midst of genuine community.
Emmaus courses can count toward Gen Ed requirements and a theology major/minor.
The Hands
Emmaus believes that the more we experience Christ's love (the heart) and learn about Christ's love (the head), the more we are compelled to perform Christ's love in the world (the hands).
Emmaus will partner with local organizations to facilitate hands-on service learning experiences.
The Emmaus Spring Break impact trip allows students to move outside their comfort zone to encounter Christ's love in new and exciting ways.
Want to learn more about Emmaus?
Please attend one of our information meetings. (Free pizza provided!)
Tuesday, Sept. 29, 4-5 p.m., chapel
Thursday, Oct. 8, 4:30-5:30 p.m., chapel
Wednesday, Oct. 14, 6-7 p.m., chapel
Monday, Oct. 26, 7-8 p.m., chapel
Tuesday, Nov. 10, 4-5 p.m., chapel
Interested in being an Emmaus scholar?
Apply here. Applications for the 2021-22 school year are due by Dec. 4, 2020. If you have any questions about the application process, please reach out to program director, Derek Taylor (dtaylor@whitworth.edu).
About the name "Emmaus"
At the end of Luke's Gospel (24:13-35), two of Jesus' followers encounter a stranger as they walk toward the village of Emmaus. Under the stranger's guidance, the disciples dwell on the story of God's faithfulness told throughout Scripture. Not wanting the stranger to go on alone, they invite him into their home. When they sit down together to break bread, their world is turned upside down. They see that this stranger is Jesus himself. This gift is simultaneously a task, for the disciples are immediately compelled to share the good news with others. In these ways, the Emmaus story provides a compelling model for Christian life. Following Jesus requires us to care for the stranger, to think deeply about Scripture, to gather in community and to participate in God's mission of redemption. This holistic pattern of discipleship is our Emmaus Way.
Meet the Emmaus Faculty Director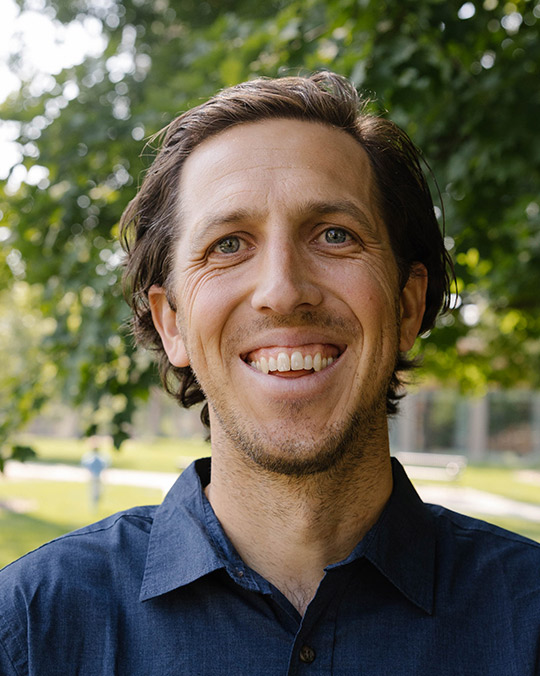 After graduating from Whitworth, Derek received a M.Div. from Princeton Theological Seminary and a Th.D. from Duke University. Derek is married to Lauren, the campus pastor for discipleship & residence hall ministry here at Whitworth. Lauren and Derek spend most of their free time chasing their young sons Theo and Micah, going on hikes with their dog Charlie (who is by all objective standards the best dog in the world) and cooking up something fun in the kitchen. If Derek isn't doing these things, he's either watching Duke basketball or finding quiet moments to escape to the river with his fly rod. Along with directing the Emmaus Scholars Program, Derek also teaches theology here at Whitworth. He is especially interested in the theology of Dietrich Bonhoeffer, scriptural hermeneutics (which is a fancy way of saying "how to read the Bible") and thinking creatively about what it means to speak faithfully about God today. Derek also has a deep passion for coffee, so if you'd like to chat over a cup, just shoot him an email!
Frequently Asked Questions
Can I be in Emmaus and other extracurricular activities like sports, music, drama, etc.?
Yes. Emmaus is designed to complement a number of other activities. We all have friends, classes and activities outside of Emmaus, and my hope is that students in Emmaus continue to invest in these. But with that being said, Emmaus is still a commitment. While students may occasionally miss Emmaus activities (like the Emmaus Family Meal), this is the exception and not the norm.
What coursework is required for Emmaus?
In Emmaus, students will take two theology courses together with other Emmaus scholars.
During Fall Semester, Emmaus scholars take a course that focuses on a theology of spirituality, community and Christian life. This course will meet once per week in the evening. The credits from this course can count toward a theology major or minor. This course can also be taken as an audit, i.e., for no official credit. If a student audits the course, they are still expected to fully participate in the course.
During Spring Semester, Emmaus scholars take a course that focuses on a theology of justice and diversity. This course must be taken as a normal 3-credit course; pass/fail is accepted. This course satisfies the current United States Diversity General Education Requirement and counts toward a theology major or minor. This course also satisfies one of the requirements for the Ministry Endorsement Program.
What type of students are in Emmaus?
There are many types of students in Emmaus. The one common denominator is a commitment to Jesus Christ. It doesn't matter what denomination you are a part of or what style of worship you prefer. It doesn't matter if you are new to faith or if you have been a Christian your whole life. It doesn't matter if you have taken theology courses before or if you are just beginning to explore your faith. What matters is that you take your faith seriously and desire to grow in your love for God. Emmaus scholars do not need to be "super spiritual," and they do not need to be perfect. They simply need to follow after Jesus.
How many students are in Emmaus?
Emmaus consists of between 10-20 students, depending on the year.
Does Emmaus cost anything?
No. The costs associated with living in the Emmaus Houses are the same as those associated with living in Theme Houses. Note: Students living in Theme Houses are not required to be on an official meal plan, so students often save money by shopping and cooking for themselves. Specific questions about on-campus living costs can be answered through Residence Life.
Emmaus activities (like Emmaus Family Meals, hospitality events and retreats) are covered by the Emmaus budget and are not the students' responsibility. The one exception is the Emmaus Spring Break Impact Trip. This trip is local to the Pacific Northwest (with no plane flights), so costs will be as minimal as possible.
Can I be in Emmaus with my friends?
Yes, we encourage you to apply with friends. However, we can't guarantee that all of your friends will be accepted. If you are accepted into Emmaus, you will have an opportunity to express your preference for your roommate.
Can I be in Emmaus and be the Theme House RA?
You can certainly apply to be the Theme House RA, but that decision is made by residence life.
What sort of community service does Emmaus do?
Emmaus partners with Whitworth's Dornsife Center for Community Engagement to place students in service-learning roles in Spokane's West Central neighborhood. On average, students will serve about 4-8 hours per month. If you are already actively involved with an off-campus service-learning site, you may be able to continue serving at this site. This decision calls for a personal conversation with the Emmaus Director. If you have questions pertaining to your particular situation, please reach out to Derek Taylor (dtaylor@whitworth.edu).
Does the Emmaus Faculty Director live in the Theme Houses?
No. But the Emmaus Director lives only a few blocks away. The Emmaus Director will regularly participate in communal prayer, the Emmaus Family Meal and other activities.
What is the timeline of the application and acceptance process?
Dec. 4, 2020: Student applications due.
Dec. 16, 2020: References due.
Dec. 18, 2020: Students notified via email regarding acceptance decision.
January 2021: Emmaus scholars gather informally to meet each other.
March 2021: Emmaus scholars partner with the Emmaus Director to apply for Emmaus Theme Houses.
September 2021: Arrive to campus for the Emmaus Orientation.